It's the age of innocence when their eyes a little brighter and their smile are full of possibilities. Their minds are being shaped by everything around them and it's important to make sure that those surroundings are positive and promote good character traits.
The question is are toys and video games the right Christmas gift for kids? The simple answer - yes.
Creative Development
Children love toys and they love to play video games. Imagination is the greatest gift that we can give our children and toys are essential to their creative development. With so many toys on the market, it's difficult to choose which are best for our little ones during this holiday season. The best way to know is to ask your child to write a Christmas list. Go over the list and make sure that everything will be a positive learning, or playful, experience for your child. Avoid buying anything with an implication of violence or negative influences, which is sometimes present in current video games.
Promote Healthy Competition and Creativity
On the other hand... Video games can offer a very positive learning experience if selected carefully. They have the ability to promote healthy competition and creativity. If a child fails to achieve the next level in a video game, they are forced to come up with more creative ways to move forward. This creativity can lead to a wonderful imagination in all areas of life. Video games can also promote persistence and shows a child that patience is a key factor in achieving any goal. If a child begins playing a video game and stays with that game until he/she defeats it, this promotes patience, determination and intelligence. The child will learn that, if he/she works hard enough, they can achieve anything. This will carry over into other aspects of life and will be a positive experience. The most important thing is, that now, the child is simply having fun and doesn't even realize how beneficial a creative mind can be. They don't realize that they are learning and, to them, they're just enjoying their toys.
Promote Sharing
Toys and video games are terrific Christmas gifts for kids also because they promote sharing while keeping the child entertained and happy. Some toys promote learning, such as math and board games. Others, such as building blocks, promote creativity and the ability to build things on their own. A karaoke unit could help a child overcome shyness while a Barbie doll will allow a child to make up story lines and create fictional events.
Age Recommendations
Before choosing any toys or games as Christmas gifts for kids, make sure to read the age recommendations printed on the box or noted in the description. It's important that the age recommendations match that of your child for safety reasons. If a toy needs batteries, don't forget to include them in the box.
Unconditional Love
Keeping in mind that children are very influential, the best gift that we could ever give is unconditional love. Perhaps you can't wrap it up or even add a fancy red bow, but that just goes to prove that the best things in life really are free.
Happy Holidays!
Video gaming systems have expanded  since the Atari. Over many years, video games have evolved from simple one player games to complex gaming systems with a whole host of add on peripherals designed to bring players a gaming experience that rivals real life.
The best system that really brings players into the games they play is the Xbox 360 video game console. Developed by software giant Microsoft, the system was first released in late 2005 and quickly sold out around the world. Since then, the new components and accessories introduced for the Xbox 360 have helped it remain as one of the top selling video game consoles in the world.
The Xbox 360 comes in three different versions: the arcade console, the premium console and the Elite console. Each console has its own set of add ons and accessories. One of the most unique qualities of the Xbox 360 is its Xbox Live component. This component allows subscribing players to interact with other gamers around the world. They can interact with other players around the world via the chat function while playing games with or against people around the world. Xbox Live users can also download different content, games, TV shows and movies only available to Xbox Live subscribers.
Xbox 360 also boasts a wide variety of add ons to help players enhance their game playing experience. For example, players can use both wired and wireless controllers, specialized headsets and webcams for chatting with other players along with dance and exercise mats to use with certain games.
The Xbox 360 has a vast selection of games for players of all interests to enjoy. One look at the available games for the Xbox 360 show traditional war and fighting games, along with games designed for women, girls and preschool aged children.
There really is something for everyone in the family with the Xbox 360. That's why the Xbox 360 is a great gift for anyone in your family this Christmas. Hey, you might even want to think about getting an Xbox 360 for yourself this year. With all of the different interactive games, you're sure to find something that interests you and helps you spend your precious free time having fun!
If you'd like to play your games with crystal-clear sound but don't want to spend lots of money on it, consider the Ear Force X12 Headset. These big 50 mm speakers generate excellent highs and deep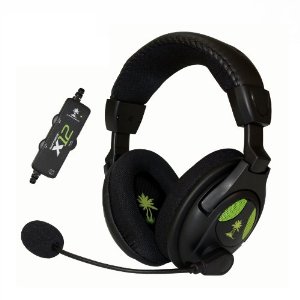 lows. The in-line amplifier makes for quick access to volume controls and bass for your video game and chats. Because it has a separate connection for microphone and line signals, the X12 is an excellent pair of headphones for PC video gaming.
The top selling XBOX gaming headset of all time is the legendary X11, and the X12 builds on that success, by adding 50mm speakers, together with adjustable bass. The outstanding sound quality gives the X12 an advantage over other speakers. You are going to notice sounds on the X12 that you didn't hear with regular speakers. You'll be able to quite easily hear the sound of footsteps or the sound of a weapon being loaded from a distance. You will be able to react more quickly since you will be able to pick up the discreet noises rather clearly. You can play for extended periods with these headphones as the ear cups are big and heavily padded.
The X12 will provide you with a gaming experience unlike what you've had before, especially if you are truly serious about your gaming sound. You'll be able to very easily make audio corrections while spending long hours with the comfortable and well-cushioned ear cups. You can also make immediate adjustments to game audio and chat volumes due to the independent controls. There aren't any adapters or batteries needed, since the power supplied to your amplified Xbox 360 headset is supplied by a USB connection. The reviews for the X12 have been mostly good so you probably won't make a bad choice by buying it.
Several of the positives that are listed include, the super-sensitive mic picks up even mumbles and whispers, which is a huge factor in why many are getting this headset. A lot of buyers also like the fantastic audio quality and the Bass Boost dial bass control. The headsets aren't noise canceling but the outside noise is considerably diminished. Lots of buyers who wear glasses also found the headsets to be quite comfortable. When it comes to problems, a few people found the mic a tad too sensitive to the point it picks up an excessive amount of background noise. Others don't like to hear their own voice when they do chat. It has an indicator if the mute is on or not. However, the way the mute is placed, it could be switched on or off by mistake quite easily.
If you used headsets previously, you might observe the difference with the X12. For many people it's going to be a huge improvement, and for others it might not. It is best to give it a try for yourself to find out if it is best for you.
Now that the Holidays are coming, children would be on break and parents need something to keep their young ones busy. There are just too many things to do such as shopping, decorating the house as well preparing for the Holiday feast. The children can be kept busy by allowing them to play with stimulating PS 3 games for kids that challenges young minds.As a result, the children would experience hours of pure enjoyment since the games offers creativity and learning making PS3 games for kids an educational activity during holidays.
Another ideal game that stimulates children's creativity would be Create by Electronic Arts. The rating is E so it's really suitable for children unlike other PS 3 games. Technically, it is a very big sandbox where kid's can produce different Rube Goldberg type creations. The main core of the game is using creativity to create machines or structures using sandblocks. Another highly suggested PS3 games for kids would be Monopoly Streets and Family Game Night which also available in other platforms like Wii and X360 . This is one board game that can be played well on a console without missing the excitement of good old Monopoly.
Certainly, children themselves would regard Gran Turismo 5 as one of the best PS 3 games for kids since nothing beats the excitement of driving each of the eight hundred cars that are showcased in the game. It is still considered as one the best driving simulation game that thrills millions of players.
If your child is a dreamer who wants to become an engineer one day and start designing their own vehicles, Mod Nation Racers perfectly fits the bill. This game is a platform-jumping title and a kart-racer based from traditional genres. Never underestimate the features of the game since children can use creation tools which they can use to build their own tracks, characters, and vehicles. Plus, the creations can be posted online so other players can give a feedback.For child who is just beginning to play PS3 games, then The Sly Collection is a good candidate for PS3 games for kids since the child can easily control a sneaky raccoon involved in platform-jumping and stealth. Easy yet thrilling makes it one highly suitable PS3 games for kids.
The Christmas season would be the right time for people to stay at home, eat, and enjoy new PS3 games with their friends. There are many new PS 3 games that would be launched in a few weeks so PS3 aficionados can't help get excited hoping to grab the new PS3 games once they hit the stores.Almost every day, the gaming industry is releasing new PS 3 games which can also be enjoyed on other platforms which pleases even hard-core gamers. These new PS 3 games are offered in different genre- first person shooter, strategy games, role-playing games, or arcade type
Remarkably, many players still enjoy the good old arcade games given a twist since these games are timeless. Truth is, Marvel Pinball is one of the new PS 3 games that would capture the excitement of Marvel Comics fans as they join Spider-Man, Wolverine, Iron Man and Blade on four pinball tables powered by the amazing Pinball FX 2 engine. The game involves using your top-notch pinball skills to protect the world from the hands of super villains.
If there are little kids in your household who want new PS3 games that can surely keep them busy, then Little Big Planet is a good option. This new PS games is really meant a stand-alone that uses PlayStation Move controller. The children can assume the role of Sackboy who must move through 10 levels dominated by dinosaurs until they get to meet the king- Evil Big Rex. The game allows up to four players so you can bring along your friends to the adventure as you avoid volcanoes and other environmental hazards. You can also get friendly with some tame dinosaurs and visit prehistoric cities which is truly educational and exciting.
Alpha Mission 2 is one of the most anticipated new PS 3 games that would delight shooters. This is a 2D vertical scrolling shooter where participants can shoot anything that moves.It exhibits a great deal of depth that can be enjoyed by two players who can go shooting at their heart's content. There are still a lot of new PS3 games that game sites like IGN and Gamezone has current updates.
Every now and them, well-known game producers in the gaming industry such as Konami, Ubisoft, SCEA, Marvel and many others come up with PS 3games such as Assassin's Creed, Gran Turismo, Need for Speed, Call of Duty, Resident Evil plus hundreds more. PS 3 is one of the well-liked platforms by gamers since it is versatile, smooth and constantly updates the console. Just this year, slim PS3 with 160 GB capacity has been made available in the market much to the satisfaction of PSP 3 aficionados. For this reason, gamers are on the look-out for ways to download PS 3 games since buying new games everytime would be an impractical idea.
If you are interested in finding sites where you can download PS 3 games on the net , here are some important reminders to consider for your protection.
To begin with, prevent yourself from downloading in torrent sites or file sharing sites since many of these sites are not reliable. While there are well known torrent sites operating online such as Isohunt or Pirate bay, still, it is relatively unsafe to download PS 3 games from these sites. First of all, control and monitoring of such sites are rather lenient so you never know if the source is reputable. The worst part in this situation is that you could already be downloading malicious software, Spyware , virus or Trojans which can have disastrous effects on your PC. A good alternative to download PS 3 games is to become a member of legitimate sites that asks for a very minimal fee to be able to download. There are websites like PS 3 games download that provides free downloads on popular games. It would be better to protect yourself by spending a few bucks rather than risking the integrity of your PC.
Second, make sure you select the appropriate site that allows you to download different kinds of media. A good practice would be to search for sites that does not only provide free download PS3 games but other media as well like music, movies, and TV shows. It is also highly likely that they offer downloads for other consoles like Wii or Xbox 360 which can be very beneficial particularly if you own different consoles with various platforms.
It's not really that that hard to download PS 3 games as long as you consider the safety of your actions .
Are you hooked on palying PS 3? If you are, then you surely need to buy PS 3 games that can provide you hours of endless fun. Most likely you just acquired your new PS 3 160 G and can't wait to test the product to experience the thrill of new PS 3 games. Players are not alike when it comes to choosing PS3 games. Some gamers enjoy first person shooter games such as Call of Duty which sends you in the heart of an ongoing war in Russia or even the Pacific.Nonetheless, some would rather drive and over speed which is why Gran Turismo 5 is such a best-seller. Browse the following listing where you can buy PS3 games:
Gaming websites- This includes videogame central and eb games.com. These websites are specially created for selling games that offers huge discounts. Some of these sites also provide free shipping which can help you save cash. Aside from PS 3 games, these sites also sell games on other platforms such as Xbox, Wii , DS and PC. The games are typically organized according to genre. There's also a compilation of upcoming games that most players are excited about having read some reviews and watched some teasers.
Online retailers- When it comes to reliability and value for money, Yahoo Shopping, Amazon and even E-bay sells hundred of titles that you can choose from. If you want to buy PS3 games from the site, you can always look for some special discounts. Also, if you buy PS 3 games from such sites, you have access to customer reviews. Reading the reviews gives you an idea whether the game met all the expectations of a gamer.Plus, the categories are neatly organized so games are classified according to genre, ESRB rating and price.
One important thing to consider when you buy PS 3 games is that you should read game reviews first. This way you can be certain that all the features of the game you are looking for are really satisfying. Customers who already used the product is your best bet in getting the PS 3 game you want. Most of all, buy PS 3 games only at reputable sites so you won't get ripped off.
When the seventh-generation PS3 was launched with slimmer models last 2009, millions of PS3 aficionados always try to get a copy of the best PS3 games. Different types of games can be played on PS 3 such as role-playing games, strategy games or first-person shooter games. While it is true that a gamer can select from a wide variety of games on PS3, features such as graphics, game play and stories can make a game really stimulating. Here are some of the best PS3 games that millions of gamers always anticipate everytime a new version comes out:
Call of Duty 4: Modern Warfare Ever since Call of Duty franchise was launched in the market, a large percentage of gamers were adults so loved the game. Call of Duty 4 is considered as one of the best PS 3 games because of the interesting story behind the game. The game is played on a first person shooter mode where one assumes the role of a British SAS agent or a Marine in the Middle East.The fight scenes are look so real and this is the first time that this best PS 3 games isn't run on an id Tech engine but on a proprietary 3D engine based that includes physics, dynamic lighting, bloom and depth-of field. Another versions which is Call of Duty World at War transports players back to WW2 in the Pacific as well as Berlin and Moscow.
Grand Theft Auto IV- This is popularly held as one of the best PS 3 games as millions of fans can't help wait for newer versions.In the newest version, one has to step into the shoes of an illegal immigrant in New York City and find a way to survive the harsh life given to you. Millions of gamers admire this version for the great storyline and online multiplayer features.
Metal Gear Solid 4: Guns of the Patriots - Fans of MSG would claim that this is one of the best PS 3 games over as their favorite character ? Snake has to defeat private military companies that deploy advanced space-age robots to destroy mankind. Definitely,Kojima ( creator of MSG ) made sure that this is the last but best PS 3 games the world would ever see.
For sure, best PS 3 games has a great effect on the gaming industry as millions of players spend endless hours in these games .
The ever improving world of technology has let top gaming corporations showcase the best that it has to offer. An excellent example for which is the introduction of the Nintendo Wii. It is a revolutionary game since it is the first to allow player movement as part of the game play to get a better feel for the game. The innovative wireless controller acts like a mouse, allowing hand movement to be visually represented on your TV screens. Through movement, the gamer is allowed to mimic certain actions as if he himself were in the game, having a better feel of the game itself. A number of selections from the Wii games list promotes various kinds of movement for the different games.
Upon purchasing a Nintendo Wii, the console comes with a free game, probably the most popular wii game to date, Wii Sports. It is the number one selling game and is at the top of the Wii games list. Wii Sports, as the name suggests, is a sports simulation game with five options: tennis, baseball, boxing, bowling and golf. The challenge is to be able imitate sports movements as if you had in your hand a racket, ball, club, bat or glove. The motion sensor on the gaming console detects the different kinds of movement done with the wireless controller in your hand. It also turns computer gaming to some sort of work out.
Other games that have made it to the top Wii games list are: Wii Play, Mario Kart Wii, Wii Sports Resort, Wii Fit, New Super Mario Bros., Wii Fit Plus, Super Smash Bros. Brawl, Super Mario Galaxy and Mario Party 8. These games aforementioned only make up the top ten, but the list goes on, there are about 50 games that have surpassed the 1 million mark.
The simplicity and interactive feature behind the Wii Sports are the reason why it is well loved around the world and at the top of the Wii games list, not to mention the best selling game of all time.
During the early eighties an 8 bit game was invented by a Japanese gamer wherein a man wearing a pink jumpsuit had to go through obstacles made by a gorilla in order to save a girl. At that time, this game was cutting edge. The objective was to jump over the barrels thrown by the gorilla to get to the top. Unknowingly, Shigeru Miyamoto?s creation would be the spark that would lead to one of the biggest game series that took the gaming industry by storm. The character wearing the pink jumpsuit would evolve in to one of the most famous gaming characters the world has known, who is Super Mario. Even today, Super Mario continues to entertain gamers of all ages like none other in his new series of Mario Wii games.
An 80?s gaming character that is still embraced by the youth of today, Super Mario has given birth to hundreds of sub series? including Super Mario bros., Super Mario World, Super Mario Kart and Mario Party. Super Mario, who started out as an 8-bit character, is still recognized by gamers of today and has spawned into countless mini series? like Super Mario bros., Super Mario World, Super Mario Kart and Mario Party. These Mario Wii Games still continue to entertain gamers across the globe.
Because of Mario Wii game?s ability to entertain gamers of all ages it is one of the recognized all around family games and is a prerequisite in every gaming room Some of which have multiplayer functions allowing all members of the family to play simultaneously. Some Mario series? have multiplayer capabilities which can accommodate as much as 4 people at the same time, making family bonding more enjoyable
Mario Wii games are always at the top of the best games list. No matter what type of game play or setting, Super Mario?s charm always won the hearts of children and adults alike triggering a constant demand for its games.
Super Mario has an appeal like none other, various fans have their own favourite trademark, but regardless of what it is, this gaming icon will forever be a part of any gamers life. He is one of the most well loved gaming icons today and will remain one for generations to come. Etching his fame in history books as the moustached plumber who saved the princess, this gaming icon will forever be part of the gaming world.