Anticipated Games of 2009 Part 1
2008 was one of the best years for games to date (we always seem to be saying that year after year...) with releases like Gears of War 2, Fable 2, Resistance 2, Little Big Planet, Metal Gear Solid 4, Left 4 Dead, Fallout 3 and many more. Will 2009 trump 2008? Let's see what the competition is shall we?
Starcraft II (Windows and Macintosh)
StarCraft fans have been anticipating this one ever since the first instalment came out in 1999. StarCraft pushed the RTS boundaries with deep story, balanced gameplay and its pure addictiveness. It had three vastly rich races and near limitless potential for strategic variations. It is still played today extensively, especially in South Korea where they are Blizzard crazy. The second instalment to the series looks set to blow RTS and StarCraft fans away. Blizzard has an extremely good record for releasing games, with none of their games being a bad egg. They are now putting the finishing touches to their sequel with updated graphics, new unit types and abilities and a new improved online system. This is a mostly anticipated game indeed.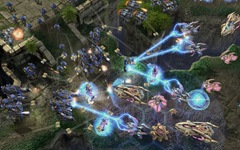 Killzone 2 (PlayStation 3)
Killzone 2 is one of the hottest First Person Shooters of 2009. This follow up to the original on the PS2 has broken the boundaries of what is possible graphics-wise on the PS3. In a couple of words it looks freakin' awesome! I was lucky enough to snag a view at it at the London Games Festival where they were showing the Beta build (I think - sorry I can't remember fully). From first looks it was simply stunning. Killzone 2 doesn't follow the mantra of previous FPSs, Guerilla Games have implemented a cover system that allows for a more tactical approach to your play and will give you time to plan your next move. They have also built an extremely engrossing atmosphere, with the crackle and pop of machine-gun fire and other sounds from the warzone. Clever AI will keep you engaged as they try to flank you or rip to shreds your cover you thought was safe. If you are a PS3 owner, this is an absolute must have.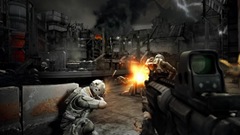 MadWorld (Wii)
This is arguably the most promising Wii game of 2009 as well as being one of the most bizarre looking games, it lives up to its name. The look of the game is its most distinctive feature. It looks like the world of Sin City, with black and white being the sole colours most of the time. The games is based around a deadly game, called Death Watch, which has sprouted up because of an outbreak of a deadly virus that has forced Varrigan City, the setting for the game, into quarantine and chaos. MadWorld sees you fight to the death in battles to win the ultimate prize in Death Watch, your life. The concept of this game echoes Battle Royale, and with its brilliant art direction and, as ever with the Wii, it will have a very unique control scheme. Hardcore gamers have been waiting for a 'hardcore' game for their Wiis, could this be it, i think so.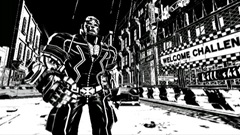 Star Wars: The Old Republic (Windows)
Star Wars Galaxies had lots of promise before it was released. Initially it delivered on that promise, to deliver a believable online world in the Star Wars Universe. Unfortunately they ended up messing it up by changing the core dynamics of the game, which made the game a challenge and fun to play, and ultimately lost subscribers. But all is not lost on the Star Wars massively multiplayer online role-playing game (MMORPG), in conjunction with BioWare (RPG masters), LucasArts have revisited the times of the Old Republic and turned it into one of the most anticipated online games of 2009. Because the times of the Old Republic haven't been written about as much as the times around the six films, there is a lot of scope for a very exceptional story in Old Republic. One of the interesting features of the Old Republic is that every decision you make whilst you complete quests, will affect the outcome of your character and the story, and this cannot be changed. You have to live with your consequences, as you fall into the dark side or rise to the light side.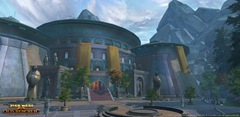 Download Games -
Unlimited Games Downloads
Copy your video games -
Make Back Up Copies Of Your Favorite Video Games
Satellite TV on Your PC - Get over 3000 STATIONS on your PC or Laptop! -
Instantly Turn your Computer into a Super TV