Biggest Games of 2009: Uncharted 2: Among Thieves
Following on from the magnificent Uncharted: Drake's Fortune, Naughty Dog's Uncharted 2: Among Thieves is set to push the boundaries of what the hardware in the PS3 can do. Whereas in Uncharted: Drake's Fortune saw the treasure hunter Nathan Drake searching for El Dorado with the help of Sir Frances Drake's diary, Uncharted 2 sees players start on the search for Marco Polo's lost fleet, and then escalates into Drake trying to uncover Polo's secret, Shambhala the legendary Tibetan city also known as, Shangri-La, which is home to the fabled Cintamani Stone, a ruby which was reputed to have the power to grant wishes. This allows the game to have a much varied range of settings for Drake to explore, rather than the single setting of the South American Jungle in the first outing.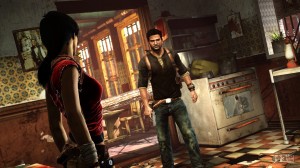 As usual with sequels, Naughty Dog are set to address concerns that were highlighted in the first game and to amend them in Uncharted 2, with the major complaint being enemies with abundant health. Naughty Dog say that damage will be much more realistic and enemies with more health will be identifiable and boss encounters will be more difficult.
One of the most surprising statements from Naughty Dog concerning the first Uncharted game was that they were only using 30% of the power the PS3 has to offer, and yet the first Uncharted game was and still is still the best looking game on the PS3. Naughty Dog claim they have increased from the amount of processing power from 30% to 40-45% so far in Uncharted 2 and hope to get it to around 50% when the game is completed. So we expect an absolute eye watering feast as well as a cinematic experience when this hits selves later this year.
Psp downloads -
Download Psp Games, Psp Movies, Psp Tv Shows, Psp Software, Wallpapers.
more Psp downloads -
Millions of Psp games, fast game downloads