After the massive success of Call of Duty 4: Modern Warfare Game of the Year from Infinity Ward, it is still collecting rewards two years after it's release, there would be no doubt that a sequel would be on its way. With Activision's policy of releasing a game from the Call of Duty franchise, with Infinity Ward and Treyarch releasing their variant alternately, this year is Infinity Ward's tough task of matching and bettering the standards set by the brilliant Call of Duty: Modern Warfare.
So far news of the second installment has been hard to come by, until Infinity Ward sent out a cryptic message on Twitter. Then at the Games Developers Conference (GDC), Infinity Ward and Activision revealed a teaser trailer for the masses.
The trailer oozes subtle clues, but doesn't really say anything about what the game will be like and what improvements Infinity Ward have made. All those will have to wait until the release, which has been stated as November 10th.
On an interesting note, nowhere in the trailer does it say Call of Duty, only Modern Warfare 2. Are they dropping the Call of Duty tag from their games? Is it just for marketing purposes? Who knows, but recently the Call of Duty series has dropped the numbering system with Call of Duty: World at War, which people thought was Call of Duty 5. Whatever Activision and Infinity Ward are doing with the Call of Duty franchise, Modern Warfare 2 is definitely going to be anticipated. you can watch the trailer below.
Download Games -
Unlimited Games Downloads
Copy your video games -
Make Back Up Copies Of Your Favorite Video Games
Satellite TV on Your PC - Get over 3000 STATIONS on your PC or Laptop! -
Instantly Turn your Computer into a Super TV


During the 90's there was only two things on people's minds Sonic or Mario?, or in other terms Megadrive (Genesis) or SNES?
Sonic and Mario were the stalwarts of the 1990's gaming decade and defined the system they graced upon. Sonic the Hedgehog was the pin-up of Sega's Megadrive (or Genesis) and Mario of course is the face of Nintendo and in the 90's graced the Super Nintendo Entertainment System or the SNES.
Mario had been around the gaming world for a few years now, debuting in the Donkey Kong series and then having his own game series on the NES. During that period, there was no-one to rival the Italian plumber and his adventures to save Princess Peaches from Bowser.
That was until Sonic burst on to the scene in 1991, in Sonic the Hedgehog, (or Sonic 1 nowadays) for the Megadrive, which had been release just a few years earlier. It was an instant hit, gamers loved flying through the Sonic universe at blistering speeds collecting rings. It had everything from alternate paths, to Special Stages, to hard to get to areas with loads of rings, and cool boss fights.
The main aim of the Game was to stop Dr Robotnik from collecting seven of the Chaos Emeralds. You played through six zones, each with three stages, until you confront Dr Robotnik one last time in the game in the Final Zone.
To collect the Chaos Emeralds you had to collect at least 50 rings, which would unveil a giant golden ring at the end of the stage. This could only be done on the first two stages of a zone as the third stage is where you fight off Dr Robotnik. The golden ring would then send you to the Special Stage, where you get flung round a level like a pinball, avoiding pitfalls that would fling you out of the Special Stage. The Chaos Emeralds were always guarded by crystals that took numerous hits for them to disappear. Oh and lastly, Dr Robotnik had turned all the creatures of the Zones into evil enemies that would attack you and make you lose all your precious rings. If you spun attacked them then they would turn back into their fluffy and cute original state! What game has this!!
Anyway, Sonic the Hedgehog was such a huge success Sega released a sequel the following year and introduced a new playable character, Miles "Tails" Prower. Again Dr Robotnik was after the Chaos Emeralds, but this time use them to power his Death Egg. It was up to Sonic and Tails to stop him.
Sonic 2 built on the previous game with enhanced graphics, however, the core gameplay was the same. The only thing they tweaked was the ability to "charge" sonic up and then let him fly along the level in a ball of blue hedgehog. This new mechanism was a brilliant addition by Sega. Another new addition was Super Sonic. If you had collected all seven of the Chaos Emeralds in the Special Stages, Sonic could unleash his Super Form. to do this Sonic must have 50 rings and then jump into the air. When in Super Sonic mode, Sonic glows yellow and is virtually invincible.
Again, Sonic 2 changed things, this time with the Special Stages. Instead of pinballing around a level, Sonic and Tails ran along a course collecting rings and the elusive Chaos Emerald. Sonic 2 was yet another hit for Sega and continued Sonics' rapid rise in video game fame.
Soon after Sonic 2 was released, the inevitable Sonic 3 was rumoured, and to everybody's relief Sonic 3 was released to the masses. It again built on its predecessor, and improved on the graphics front (as much as you can with sprite graphics). It still included the Chaos Emeralds, Super Sonic and Dr Robotnik. However, there was a new Enemy, Knuckles. Knuckles tried to stop Sonic at every turn. The dastardly Dr Robotnik had tricked Knuckles the Echidna into thinking Sonic was a threat to his home.
Knuckles was an instant hit with the Sonic fans, and due to that Sega decided he warranted a game where he was a playable character, thus Sonic and Knuckles was born. Sonic and Knuckles worked as a stand alone game, but had the added functionality of a system called Lock-On Technology. This allowed the previous versions of Sonic to be plugged in combine the two games together and added new elements to the game, except for Sonic 1, which when plugged into the Knuckles and pressing the A, B and C buttons together, a minigame based upon the Chaos Emerald bonus levels is unlocked called Blue Sphere.
Sonic and Knuckles was the last Sonic game to be released on the Megadrive, and ultimately was the last decent Sonic game to date. Since his change from 2D to 3D Sonic entered a downward spiral of poor games, with equally poor gameplay that did not live upto the speed and skill needed for the original trilogy and Sonic and Knuckles. After the failure of Sega's Saturn and Dreamcast consoles, Sega dropped out of the console market and focused on creating and publishing games, and since 2000, Sega have published a Sonic game every single year, to which none of them were any good. Even the games Sega claimed would capture the essence of Sonic, which the fans craved for and was sadly missing, flopped with disgrace. For someone who grew up loving Sonic, this is a sad turn for the blue hedgehog. Personally, I would be happy if I never saw another Sonic game again, just so we are not disappointed again. However, this will not happen as today's kids still love Sonic, and rightly they should, the idea of a super fast blue hedgehog who has superpowers is just brilliant. But Sega has ultimately set their sights on this demographic, as their previous efforts failed to rekindle the older gamers love of Sonic.
So where does Mario fit into all of this? Well he still lives on strong and just keeps getting better and better. Since his debut in 3D on the N64, Mario has embraced the 3D world with relish. Mario absolutely loves it, and 3D loves Mario. The slower pace and platforming suit Mario perfectly, and has resulted in some f his best games - Super Mario 64, Super Mario Sunshine and Super Mario Galaxy. So does this mean Mario has won the battle that has been going on between gamers for nearly twenty years? Maybe, but as long as there are still Sega Megadrives out there (and the emulators) we will always have Sonic at his best!

Download Games -
Unlimited Games Downloads
Copy your video games -
Make Back Up Copies Of Your Favorite Video Games
Satellite TV on Your PC - Get over 3000 STATIONS on your PC or Laptop! -
Instantly Turn your Computer into a Super TV


Demigod is a real-time, tactical strategy game merged with extensive role-playing elements. Developed by Gas-Powered Games, it closely resembles the Defence of the Ancients mod for WarCraft III.

This isn't the first time developers Gas Powered games have taken influence from Blizzard, WarCraft III developers. Dungeon Siege is heavily influenced by Diablo. But who better to take influences from? Blizzard have never to date released a bad game, and continue to push the boundaries with their games.

However, back to Demigod. Demigod sees you taking control of one of several Demigods, each with their own unique abilities. By killing enemies your Demigod gains experience, which can go towards gaining new abilities. Abilities are unlocked via a skill trees, which have a vast number of abilities to choose from and each Demigod has its own unique skill tree. The key is to find a character and skill tree to match your style of play.

Instead of roaming vast worlds and ridding the worlds of evil, Demigod throws you into a battle against an equally matched foe on symmetrical maps, called "Arenas". The aim of each Arena is to push back your enemy whilst taking control of strategic objectives that can help you change the course of battle.
The battles in the Arenas do not just centre around your Demigod. Your demigod commands minions, I say command, you do not actually control these minions the computer does for you. The minions will follow your Demigod around the Arena and will attack your enemy automatically. This may be a concern for many  players, as you do not want computer AI to send your army of minions to the other side of the map where you are not engaged in a bloody battle. However, the programming of the minion AI is very good, and response from the beta testing says problems occur infrequently.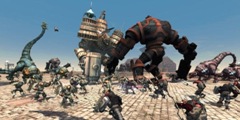 The world of Demigod has been crafted beautifully, and Gas Powered Games has managed to create a vibrant and rich world. The Demigods themselves look awe inspiring. The Rook is a classic tank Demigod, ready to charge in and demolish its foes up close and personal, and it has been designed to look so. The Rook looks like a gigantic stone golem that has catapults built into its shoulders.
In contrast, the Unclean Beast, is a Demigod that likes to poison its foes and suck the life out of the living. The Unclean Beast is modelled to look like a cross between a bear, a wolf, a panther and a corpse. This is where Demigod excels at, creating characters that are interesting to all types of players, so you instantly bond to one Demigod that will suit your preferred style of play.
Gas Powered Games, has managed to create a game that takes one of the most well played mods ever, Defence of the Ancients, and turn it into a promising and hugely polished game. If you missed out the chance to play Defence of the Ancients, then I would definitely check of Demigod.
Unlimited Games Downloads
Copy your video games -
Make Back Up Copies Of Your Favorite Video Games
Satellite TV on Your PC - Get over 3000 STATIONS on your PC or Laptop! -
Instantly Turn your Computer into a Super TV


Today, Blizzard have unveiled the brand new Battle.net, Blizzards very own online gaming service. If you are a Blizzard junkie, these improvements will make your life much more easier.

Online gaming, forums, World of Warcraft accounts, the Blizzard Store, everything, is linked to just one username and password. This is not all, Blizzard promise to add a lot more features, such as, tools to make it easier for friends to communicate between games.

Blizzard's upcoming titles, StarCraft II and Diablo III, will need Battle.net accounts. As for the many World of Warcraft players out there, it is possible to create a Battle.net account and merge your WoW account with it. However, this add functionality will require all WoW account holders to migrate to the Battle.net system.

For people still playing the likes of Diablo II, StarCraft and Warcraft III, you will need to keep your old Battle.net login details to play these online. Or you can skip the new Battle.net and keep the older service, which will be renamed Battle.net Classic.

World Of Warcraft Gold Guide -
World Of Warcraft Gold Secrets...
Zygors In-Game Alliance And Horde World Of Warcraft 1 - 80 Leveling Guides -
"Zygor Guides Has The Fastest Leveling Path In The Entire World! You Can Get To
Level 80 In Under 7 Days "
Addicts exist in all forms of society, be it alcohol, gambling or video games. Video game addiction is the latest to pop up in the media as being a great concern for today's youth. According to some studies, nearly 10% of American youth (ages 8-18) are clinically addicted to playing video games.
Should you, parents and authorities be concerned?
According to one study, approximately 23% of youth felt they personally were addicted to video games, while 44% claiming their friends are addicted. Assuming that addiction is generally a negative phenomenon, these youth are concerned about themselves and their peers.
Potential negative eddects of video game addiction are:
Detachment from reality
Gamers who spend many hours playing games are by definition not paying attention to what is happening in the world around them. They can become interested in the fantasy or make-believe world inside the game than in the real world.
Violent Personality
Many adults have raised concerns about the violent nature of many video games. Indeed, at least a few cases exist of teens acting out the actions modeled in games, although hard data is hard to com by.
Games such as Grand Theft Auto include theft and sexual crimes. Parents obviously are concerned about their children taking part in these activities, even if it not "real".
More common is the "war" type of game where the gamer merely shoots another combatant.
Impact on Physical Fitness
Just as having a desk job often correlates with an overweight condition, so young adults who are heavily into video gaming have a tendency to be overweight. Clearly when sitting on a couch or the floor playing a game, one cannot be burning off many calories, although the Wii Sports and Wii Fit have addressed this issue to a degree. In addition, many gamers tend to snack on junk food and sugar-laden soft drinks while playing for long periods of time, which as a regular diet can cause obesity and diabetes in the future.
Mental development and thinking habits
Gamers addicted to playing video games may also suffer in their mental development, especially if homework and reading are neglected. While some gamers have argued that many games require critical thinking to play them successfully, others point out the nature of the typical game is quite limited in scope. In other words, one is limited by the world in which the game developer wished to create. Also, video games have been accused of reducing children's attention spans, both in and out of school.
Gamers' perspective
In response to claims of video gaming addiction, gamers point out several facts. First, addiction can take many forms, and video gaming addiction is much less harmful than say, alcohol or drug addiction.  Second, many adults have addictions such as to caffeine and sugar and they seem to function reasonably well in society.
Advancing video game technology means games are becoming more realistic and immersive. This may mean an increase in video game addiction. The debate as to whether video game addiction is truly harmful will continue to be hotly debates, as gaming is becoming one of the biggest forms of media to date. The industry is on par, even in front of, the movie industry in terms of revenue.
Download Games -
Unlimited Games Downloads
Copy your video games -
Make Back Up Copies Of Your Favorite Video Games
Satellite TV on Your PC - Get over 3000 STATIONS on your PC or Laptop! -
Instantly Turn your Computer into a Super TV


Controversy has surround video games for decades. Varying opinios are held on the issue of violence in video games. Since some studies indicate that as many as fifteen percent of gamers show signs of video game addiction, the presence of violence in games is equally troubling to some.

Parents

It's a parents right to be concerned about their childrend, and many parents are concerned about the influence games have over their children. They wonder whether certain games will cause their children to exhibit aggressive behaviors which they otherwise would not.

In fact, several instances exist of children who have, in fact, planned attacks on others based on specific gameplay. At least a handful of these have actually been carried out. Parents are rightly concerned that their children are not unduly influenced to display antisocial and criminal behavior.

Gamers

The opinion of gamers on this issue, as expected, is all over the map, but most serious gamers are content to let individual gamers make up their own minds. They acknowledge that a few isolated incidents exist where gamers appear to have been encouraged in taking violent actions based upon a specific game, but point out it was likely the individual would have found some other example to model, such as a movie, television show, or book.

Ministers and educators

Many influential people, such as ministers and educators, feel that the presence of violent video games is bad for society. Their existence provides a degree of legitimacy for the use of violence. Young people may get the idea that it perfectly acceptable to use violence to resolve personal conflicts rather than seek alternative methods.

Legislators

Our law makers have also become involved in the controversy. Many Congressional hearings have been held to debate this issue. Laws have been passed both at the national and local level, with many cities passing laws banning specific games. These cities' laws are often later overturned.

Gaming industry

In response to initial legislation during the 1990s, the video gaming industry created the Entertainment Software Rating Board (ESRB) which rates video games (similar to ratings for films). This was essentially a self-policing action designed to prevent further intrusion by various levels of government.

Ratings include: EC (Early Childhood), E (Everyone), Everyone 10+, Teen, Mature, Adults Only, and Rating Pending.

The ratings serve to guide parents and their children about the appropriateness of specific games to the child's age and maturity level.

In addition, video games contain "content descriptors" on the back of the game to further describe the game's content.

Conclusion

The controversy over video game violence will certainly not be resolved anytime soon. In fact, it will probably escalate along with the advances in graphics and gameplay with the major gaming consoles. The best approach is to stay informed and to make decisions based upon what is right for you and your family.

One of the main problems regarding video games is that many people believe they are aimed at children. Whilst this is true in some cases, most games are aimed at a much more mature audience. Children, teenages and young adults are naturally drawn to video games as they provide hours of fun and an escape from the real world, much like a book, but in a more involved and usually adrenaline packed way.

The controversy over video games, will certainly not be resolved anytime soon. More accurately, it will likely escalate due to the advances in graphics and gameplay with the major gaming consoles.

The best approach is to stay informed about the games industry, especially if your children are avid gamers. Make decisions that are right for you and your family. Also, don't forget game developers do all they can legally to make sure the game does not fall into the wrong hands. Games have an adult rating for a reason and this is the biggest indication of whether the game is appropriate or not.

Download Games -
Unlimited Games Downloads
Copy your video games -
Make Back Up Copies Of Your Favorite Video Games
Satellite TV on Your PC - Get over 3000 STATIONS on your PC or Laptop! -
Instantly Turn your Computer into a Super TV


2008 was a rather underwhelming year in terms of the Wii games that were released, things are going to get better in 2009. Or at least, it's looking that way. Here are three three games that hopes are will take true advantage of the Wii's hardware this.

Punch-Out!
What is it about revivals? The film industry are doing it and so is the game industry. But we can let Punch-Out off, as it is well worthy of a remake. The last time Punch-Out!! was released was in the form of Super Punch-Out on the Super Nintendo.
The games thrive off of action involving well-timely executed attacks. The older games sent you through a series of fights and boss battles, where each person had their own timing you had to figure out. An obvious upgrade in the graphics is present with a cartoony, cell-shade look that is not only sure to please fans of the franchise, but also hook outsiders who will soon want to give it a try.
The original Punch-Out remains both unique and fun to this day, so how can a remake by the best of developers go wrong?
MadWorld
MadWorld is one of the most unique games to appear on any system this generation. It is also one of the most violent, but that's a good thing. One of the most unique aspects of MadWorld is its graphics, everything is in Black and White, except for the blood and guts. Yes, it's that kind of game...
When your character can make a chainsaw come out of his arm, you know that a gore fest is what's in store. The action is very stylized and combo-oriented. Whilst battling it out with enemies in urban areas, you can deal all kinds of damage, from shoving stop signs through enemies' heads, to reaching inside someone's chest and ripping his heart out. Meanwhile, a humorous voice announces each move as you perform it, commentating as if it were some kind of football game.
Definitely not for the faint hearted, but MadWorld's presentation and gameplay has us curious...
The Conduit
Not many developers' would argue that the Wii is, technologically, inferior to the PS3 and the Xbox 360. The Conduit developers, High Voltage, believe differently. they believe the Wii is the better and want to prove it with The Conduit.
The Conduit is a first-person sci-fi shooter, with gorgeous detail. High Voltage has put a lot into this game, and it's showing. The game will not only have an extended singleplayer campaign, but a 16-player multiplayer online mode.
The Conduit is certainly taking the Wii to the limit and is definitely worth checking out.
Educational games are rare. However, Nintendo, who are trying to capture casual gamers have released a few that meet the the definition of an eductional game. Here are a few to get you started.
Zack & Wiki: Quest for Barbaros' Treasure
Zack & Wiki Quest for Barbaros' Treasure is one such game. Zack is a boy with a dream of becoming the greatest pirate in the world. To reach his goal, he must solve 24 puzzles. In each one, Zack must manipulate the environment in some way to finish that portion of his Quest. He is helped by his sidekick Wiki.
Whilst not being a eductional game at first sight, Zack and Wiki employ problem-solving skills in order to meet their objective. An important skill.
Arcamedic Builders
The developer Arcamedic Builders sells many Wii games which focus on math and word skills. In Grand Prix Multiplication, the performance of the player's cars depends on answering math problems correctly. With Word Frog, the player must choose antonyms, synonyms, or homonyms for specific words
Arcamedic Builders games are online games that are optimized for play on the Wii. Over one dozen games are available.
The Brain games from Nintendo have had huge success, especially on the DS. This game is based on a Nintendo DS game. The game begins with a test, in which you are rated in 5 categories. These scores are used as a baseline for future tests. One can compete with up to seven other players.
In contrast to similar games available for home computers, Wii Degree makes extensive use of the WiiMote.
Cranium Kabookii
Cranium Kabookii is a new kind of Wii game that takes advantage of the unique features of the Wii. The game utilizes the Wii Remote and the "Kabookii Decoder Glasses". Cranium Kabookii creates a living canvas on the TV screen in which teams jam together, exercise drawing ability, act, solves puzzles and even crack codes to win games.
The activities include:
* Getting players to spraypaint the entire solar system on a wall. Believe it or not, you can hear the can shaking in your hand!
* Turn the Wiimote into a hammer to play "Auld Lang Syne" on a xylophone
*Solve word puzzles
The Kabookii Decoder Glasses are an added bonus, as they let only one player at a time to individually see the hidden clues on the TV screen. Cranium Kabookii is a wonderful educational game for all the family, and one that will keep kids entertained for hours.
Smarty Pants
Do you have a craving for trivia? Smarty Pants: Trivia for Everyone is just such a game that will quench your appetite for trivia! It cleverly alters the questions to what is most appropriate for each individual player. The way it works is this: players reveal their ages (they do this when they create their Mii) and then the game only asks questions suitable for that age of player.

Smarty Pants is a good choice for ages eight and over, and is also an excellent choice for a family party game.

The Wii is an excellent platform for eductional games, and regardless of you age or interests, there is always an educational game for your Nintendo Wii.

Wii music, Wii Games -
Unlimited Wii Downloads
Do you want to run the Homebrew application safely on your Nintendo WII? How about playing downloaded games and DVD`s? -
Unlock Your Wii Safely With Homebrewinstaller
Everybody knows about the Xbox 360, PS3, and Wii. It's often that people compare each consoles graphics power and stability, but rarely do they consider the pros and cons of the controllers themselves. It is the controller that links you to the game, with out it gamers would be lost. A lot of work can go into making a good, accessibly comfortable controller. So, overall, how does each controller compare?
Microsoft Xbox Controller
When the original Xbox released in 2001, it came with the initial controller now known as the Duke Controller. As Microsoft soon discovered, the Duke was way to big and bulky, and hurt people's hands. So the Controller S was released, a model that is very similar to the current Xbox 360 controller, only the Xbox 360 version is the most comfortable and easy to use model by far.
Yes, the Xbox 360 has a great controller overall, but you may be surprised to know that the one thing that gamers have never forgiven Microsoft for is the absolutely abysmal control pad. There is no excuse for it. Every other current-gen console has implemented the pad perfectly. Microsoft apparently wanted to stand out as different by having a control pad that does not work, but it is a huge price to pay for such decidedly unprofessional behaviour. If such a flaw were to be fixed, the Xbox 360's controller would be near perfect.
Sony Playstation 3 Controller
The current Playstation 3 controller is not as new to the game as you might think. It is basically the PS2's, only with certain internal modifications. The original PS3 controller, which had a new look, sort of a boomerang shaped thing, and control scheme, was cancelled. The reasons for this are clear: the controller didn't work as well as the time-tested PS2's did. Perhaps it was a good decision, but I doubt that Sony will get away with doing the same thing over come the next generation of gaming. One feature that was, and still is, lacking from the PS3 controllers is the combination of the six-axis controller and the DualShock 3 controller. We all know Sony thought that having a rumble function was not the future, but we gamers demanded it. So, why could they not combine the two together? Who knows, maybe in the future.
The PS3's controller works as well as ever, even if we can't have both six-axis and DualShock together, but gamers are going to start wanting something less familiar and more original soon enough. Truth is, the way Sony is now, I doubt gamers will get what they want.
Nintendo Wii Controller
Lastly there is the Wii. The Wii's Wiimote is hard to compare to the controllers of other consoles. It pushes the boundaries of controllers far beyond what Microsoft or Sony have ever done. It is more innovative, original, and advanced than any controller that has come out in almost two decades. Perhaps longer.
It is an amazing piece of technology that has all the potential to take gaming to a whole new level. With all the hate towards the Wii's lack of powerful hardware, at least the console has it's Wiimote going for it.
Gamers everywhere should look forward to what the eighth generation of gaming controllers will bring.  Who knows what innovations will be brought to the table and take gaming to the next level?
Download Games -
Unlimited Games Downloads
Copy your video games -
Make Back Up Copies Of Your Favorite Video Games
Satellite TV on Your PC - Get over 3000 STATIONS on your PC or Laptop! -
Instantly Turn your Computer into a Super TV


Games have changed dramatically over the decades that have been around. Older games do not have the advanced gameplay and pleasing graphics of today's games. However, some of them are monumental in the history of video games, like Space Invaders or Pac-Man. They can still provide hours of fun for nostalgia's sake - to relive the glory days of one's youth. Even todays youth can enjoy the older games as a welcome diversion to today's fare.

Here are four options to explore for those wanting to play classic games.

Online Games

Not many people would think to look on the internet for old video games, but with the massive uptake of Flash and Java, old video games have had a rejuvination. There are many sites which offer Flash or Java based games. You can find almost anything you want: Frogger, Donkey Kong, Centipede, and on it goes. There are hundreds of games available online. Many of these sites are advertising supported, that is how they offer these games for free. Just be careful as some sites falsly advertise these games, and instead send viruses or even trojan horses. Therefore, make sure you have good virus protection loaded onto your system and keep it up to date.

Just Google "classic games" or something similar to find these sites.

Console Emulators

Another option is console emulators, which are programs one can run on their computer that mimic video game consoles.

As with the online games, many options are available for emulators and games. In most cases, the games are not exact clones but do fairly closely mimic the gameplay of certain games. The Nintendo Super Mario franchise is one which has many cloned games available. When dealing with emulators, there is a legal issue to be aware of. When downloading the games to play on the emulator you have to actually own the a copy of the game, otherwise you are breaking the copyright laws.

Multi-Game Consoles

There are many variations of this, and the idea is that you can purchase a new console that has one, five, ten or more games preloaded onto it. These units have been available for years and continue to sell well. Check Amazon our your local stores and see what goodies they have.

Buy Older Video Game Machines

This last tip is an activity that could consume a great deal of time if you choose. But ultimately is the best way. Not only does it bring back the full nostalger of playing the consoles again, but you can play the games the way they were meant to be played. You can simply buy used consoles, games, and controllers and hook them up to your television.

Popular choices include the Atari 2600 and the Nintendo Entertainment System (NES).

The first place you should check is eBay, where you can often find an entire package including the console, controllers, and ten or more games for under $50. This would be everything you need until you decide to purchase more games, and hundreds or even thousands are available for sale at any given time.

If you would rather not buy your used video game equipment online, many people have good luck locally. You can try the following:

* Craigslist (if you know how to use RSS feeds, these searches can be automated).
* Nickel-type papers.
* Yard sales (don't be afraid to offer less than the asking price).
* Second hand stores.

Here's a tip about the last item, second hand stores. These types of stores get inventory in all the time, especially non-profit stores where individuals make donations of goods. What you want is someone on the "inside" who will call you when specific items arrive that you might want. If you can get this kind of help, it will save you a lot of time. Otherwise, you will need to check back with the stores on a fairly regular basis. Also, when buying from a second hand store, they only accept consoles or games that work, so when buying from these places your almost certain to have a product that works.

No matter which option you choose, you can find classic games for free or for the fraction of what you pay for games these days, and enjoy them almost as much as today's games!

Download Games -
Unlimited Games Downloads
Copy your video games -
Make Back Up Copies Of Your Favorite Video Games
Satellite TV on Your PC - Get over 3000 STATIONS on your PC or Laptop! -
Instantly Turn your Computer into a Super TV