Marvel vs. Capcom 2is being remade for the Xbox Live Arcade and the PlayStation Network! Similar to the Street Fighter 2 HD remix, Marvel Vs Capcom 2 will bring back the awesome classic fighting game into this generation. Revamped visuals will be the most predominant new feature in this remake, also a simplified control scheme has been created along with a few changes to the combos. Online support is also included.
High anticipation surrounds Marvel Vs Capcom 2, and for good reason – who does not want to play as Spider-man and beat-up notorious Capcom will M. Bison! Or even team Ryu up with Wolverine or even Iron Man! The possibilities of this game are so cool it warrants a purchase itself.
If you have never played the original two games, then this is a must for your XBLA or PSN collection. Its released in July this year.
Download Games -
Unlimited Games Downloads
Copy your video games -
Make Back Up Copies Of Your Favorite Video Games
Satellite TV on Your PC - Get over 3000 STATIONS on your PC or Laptop! -
Instantly Turn your Computer into a Super TV


Massively Multiplayer Online Roleplaying Games (or MMORPGs) have been around for a while and have proven extremely popular with gamers. There are plenty of titles to choose from, however, one title has stood out the most, World of Warcraft. No other MMORPG has come close to getting the number of subscriptions Warcraft gets. Over 11 million people subscribe to play in the lands of Azeroth, that's a greater population than Ireland! Simply put World of Warcraft is the game to beat when developing a new MMORPG.

Many have tried to knock Warcraft off its pedestal and have crashed and burned in the process. Movie properties have tried to beat Warcraft, such as Codemaster's Lord of the Rings Online game, the popular war games franchise Warhammer has even created an MMORPG to tackle the might of Warcraft. While being popular in their own rights, usually with the fans f said franchises, they have never come close to the numbers Blizzard boast about when referring to Warcraft. Heck even Dungeon and Dragons created an MMO and they didn't beat them and they basically are responsible for what we know as an RPG!
The reason Warcraft succeeded where others haven't is primarily down to the fact it can run on virtually any machine, be it a low spec PC, high spec super gaming PC or a Mac. If you have a computer you can more than likely play World of Warcraft. People have even managed to play it on their Netbooks! Warcraft can play on a variety of machines because of the graphical choice the developers Blizzard made. Instead of top notch, realistic, intensive environments, Warcraft has its on cartoonish, fantasy world and it works. The first steps you take in Azeroth you admire the beauty of the world.
Blizzard also made sure they catered for all types of players – from a young audience to a more mature audience and casual players to hardcore players. The two different factions show this the best. The Alliance faction has more 'nicer' races to choose from that may generally appeal to a younger audience who want to champion the good, where as the Horde side is much more darker and perceived as more evil, is mostly played by a more mature audience.
If your just a casual player in Warcraft, you and your friends can roam around completing quests, or tackle an instance or even have friendly duels. To satisfy the more adventurous type, Blizzard created battlegrounds, where the two apposing factions could battle it out to control certain points on a map or capture the oppositions flag and fifty man raids against bosses that require tactics and skill to defeat. Arenas were created to increase the amount of player versus player (PvP) experiences, where players fought in gladiatorial style events. Blizzard catered for everyone and this is testimony to why they have so many subscribers.
Now there is a new breed of MMORPGs on the horizon. Comic giants DC are wading in on the MMORPG business with their new title DC Universe Online. But can this knock Warcraft from the top? Probably not. While the idea of the DC Universe being open to us to create our own super heroes or super villain is super cool, its been done before with NCSoft's City of Heroes and City of Villains. Also, the reason people love DC is for their great, charismatic characters like Superman, Batman, Green Lantern, Wonder Woman and Catwoman. What is the point of a DC game if you can't control these characters?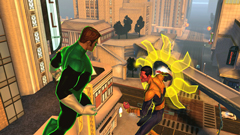 Another contender is Bioware's Star Wars: The Old Republic. Based thousands of years before the movies, The Old Republic charts the battle between the armies of the Sith and the Jedi's in a time that is relatively uncharted in the Star Wars Universe. And this is what will make it a real contender, there will be no Luke Skywalker, Han Solo, Princess Leia being badly voice acted (to us Star Wars fans as nobody other than the actors and actresses who played the beloved characters can voice them properly) will be present. The creators have free reign over how the story and game is developed.
Now this isn't the first Star Wars MMO to be developed. Star Wars Galaxies, the first MMO, was a success in retrospect and had a very loyal fan base. The developers made a difficult choice to leave out the Jedi class and instead opt for a difficult journey to become a Jedi. This was a great concept, as Jedi's where limited in the time period (between New Hope and Empire). Due to outrage of the fact you had to work to become a Jedi a slue of updates was released and changed the game from the one that the fans loved.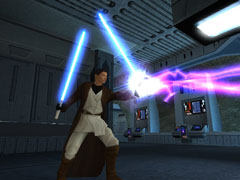 With the time period chosen with The Old Republic, this can be easily avoided, Jedi's and Sith alike are abundant and other classes can be chosen, like bounty hunter. And since World of Warcraft has nearly finished its lifetime, in terms of expansion packs and story progression, The Old Republic can come in and fill the void that will be left after Warcraft has ultimately finished.

These are only a couple of new MMORPGs that are being developed, many more like the Star Trek MMO have been announced, but since World of Warcraft is on its final journey with the Wrath of the Lich King and the many content updates that will come along in the next year or two that will lead up to the ultimate end fight with Arthas, a.k.a the Lich King, eleven million subscribers may need a new MMO to migrate to. There will be many choices for the gamers to choose from, but the one that will capture the market the way Warcraft did will ultimately by the game that succeeds.

Even if a new MMORPG comes in a takes the crown away from Warcraft after its end, Warcraft will still be perceived as the greatest massively multiplayer online roleplaying game ever. Until Blizzard release their new one that is…

World Of Warcraft Gold Guide -
World Of Warcraft Gold Secrets...
Zygors In-Game Alliance And Horde World Of Warcraft 1 - 80 Leveling Guides -
"Zygor Guides Has The Fastest Leveling Path In The Entire World! You Can Get To
Level 80 In Under 7 Days "
Yes, it seems Hollywood can't keep their hands off video games still. After a string of video game titles in the early 00's, which were largely criticised, some flopped after release and more went straight to DVD, the seminal Shadow of the Colossus is to be made into a film. Oh no…
Shadow of the Colossus was one of THE must have games of the PS2 era. There wasn't much story to it, the basic story was to save what appeared to be a princess by slaying a range of Colossi in a mysterious land. Each Colossus had a certain tactic as to how to defeat it and this was one of the great appeals of the game. As well as this, the game had the most breathtaking graphics seen on the PS2 as well as one of the most detailed, the Colossi themselves where the most detailed characters in the game with details right down to the hair.
This is the main reason why there are so many reservations as to why some one would want to make Shadow of the Colossus into a film. The story present in the game was excellent, but it was simple, intriguing and in the end deceitful with its plot twist. But there isn't much to go on to turn it into a film. Yes they have a beginning and an end, but the middle just consists of finding the particular Colossus, riding your horse there and then slaying the Colossus. That's it.
However, Justin Marks, who is adapting the story for the screen and wrote the new Chun-Li film, believes it can be turned into a Lord of the Rings style fantasy blockbuster, and will expand upon the minimalistic story.
Ideally, this game will never be made into a film, but like most great games out there, there seems to be a place in Hollywood for them, and Shadow of the Colossus will join a list of great games that are being made into films, like Gears of War, Halo and Metal Gear Solid. Lets hope they manage to pull it off and create a magnificent film.
Download Games -
Unlimited Games Downloads
Copy your video games -
Make Back Up Copies Of Your Favorite Video Games
Satellite TV on Your PC - Get over 3000 STATIONS on your PC or Laptop! -
Instantly Turn your Computer into a Super TV


The next incarnation of the hugely popular Nintendo DS is here. With an added vowel to the name, the Nintendo DSi brings with a host of new feature, such as the two DSi Cameras. As well as this Nintendo have created the Nintendo DSi Shop. Similar to the WiiWare shop for the Nintendo Wii and the App Shop for the iPhone, the DSiShop allows owners to buy DSiWare games and applications.

The main feature of the new DSi are its two new VGA 0.3 megapixel digital cameras. One on the outer casing and one pointing to the user on the internal hinge. To accompany the two cameras is an SD card slot, allowing you to save your photos and transport them onto a computer so they don't clog the memory of your DSi.
The Nintendo DSi also has multimedia capabilities. An SD card can be used not just for storing pictures, but for downloaded software from the DSiStore and to store AAC encoded music, which is played using the Nintendo DSi Sound feature and also acts as a voice recorder in conjunction with the microphone. The player also allows you to edit what ever audio is playing, by allowing you to add filters, adjust the pitch etc.

On the looks side, the DSi is pretty much the same apart from the accommodation of the two cameras and SD card. Nintendo have again managed to strip a bit more weight from the already thin previous model, the DS Lite. Specs-wise all is the same, apart from the increase in RAM – up from 4mb to 16mb. Storage can be increased by 32gb with the addition of an SD card. Lastly, the new DSi has upgradeable firmware, like the Wii and Sony's PSP so any bugs found on release can be fixed as well as new features being incorporated as time goes on.

Overall the Nintendo DSi is a worthy update to the previous DS Lite. It incorporates new features that are natural in the DS's evolution and will hopefully produce some new and interesting games, which use these features. IF you haven't checked out the Nintendo DS yet, then this is a great entry point, and if you have a DS Lite, just think of all those new features and you'll see why this is a must have!

Nintendo DS Downloads including: Games, Music, Movies, Software and Much more. A complete database containing everything that you would ever need for your Nintendo DS.-
Daily updated with the latest Games, Movies, Software and Media.
This generation of consoles will be remembered for pushing the boundaries visually, redefining how games are played and also redefining who plays games, with the massive surge of casual gamers and the Wii.
However, this year it its the 20th birthday of the greatest ever handheld console time has ever seen, the Nintendo GameBoy. It has had the life of the underdog from its birth, with its technology being a decade out of date and with a woeful dot-matrix green screen. It optimized Nintendo's attitude of "just good enough". Compared to its rival of the time, the Lynx, it was pitiful. It was the late 80's version of David and Goliath, and David won again. The GameBoy sold tremendously as it was extremely cheap, thanks to it's low tech insides. Not only that, it shipped with an absolutely gem of a game, Tetris. The most popular, addictive game ever gave flight to one of the longest lasting consoles to date, reaching a staggering 14 years being on sale.
The GameBoy not only brought the revolution of handheld gaming to the masses, it saved Nintendo. Nintendo was doomed to go the way Sega ended up, publishing other people's games on other people's systems. The GameBoy managed to sustain Nintendo through the N64 years and the GameCube years and probably helped fund the Wii. The GameCube is just that good! It is the unsung hero of the gaming world and deserves a mention on its 20th birthday!
Nintendo DS Downloads including: Games, Music, Movies, Software and Much more. A complete database containing everything that you would ever need for your Nintendo DS.-
Daily updated with the latest Games, Movies, Software and Media.
During the 90's there was only two things on people's minds Sonic or Mario?, or in other terms Megadrive (Genesis) or SNES?
Sonic and Mario were the stalwarts of the 1990's gaming decade and defined the system they graced upon. Sonic the Hedgehog was the pin-up of Sega's Megadrive (or Genesis) and Mario of course is the face of Nintendo and in the 90's graced the Super Nintendo Entertainment System or the SNES.
Mario had been around the gaming world for a few years now, debuting in the Donkey Kong series and then having his own game series on the NES. During that period, there was no-one to rival the Italian plumber and his adventures to save Princess Peaches from Bowser.
That was until Sonic burst on to the scene in 1991, in Sonic the Hedgehog, (or Sonic 1 nowadays) for the Megadrive, which had been release just a few years earlier. It was an instant hit, gamers loved flying through the Sonic universe at blistering speeds collecting rings. It had everything from alternate paths, to Special Stages, to hard to get to areas with loads of rings, and cool boss fights.
The main aim of the Game was to stop Dr Robotnik from collecting seven of the Chaos Emeralds. You played through six zones, each with three stages, until you confront Dr Robotnik one last time in the game in the Final Zone.
To collect the Chaos Emeralds you had to collect at least 50 rings, which would unveil a giant golden ring at the end of the stage. This could only be done on the first two stages of a zone as the third stage is where you fight off Dr Robotnik. The golden ring would then send you to the Special Stage, where you get flung round a level like a pinball, avoiding pitfalls that would fling you out of the Special Stage. The Chaos Emeralds were always guarded by crystals that took numerous hits for them to disappear. Oh and lastly, Dr Robotnik had turned all the creatures of the Zones into evil enemies that would attack you and make you lose all your precious rings. If you spun attacked them then they would turn back into their fluffy and cute original state! What game has this!!
Anyway, Sonic the Hedgehog was such a huge success Sega released a sequel the following year and introduced a new playable character, Miles "Tails" Prower. Again Dr Robotnik was after the Chaos Emeralds, but this time use them to power his Death Egg. It was up to Sonic and Tails to stop him.
Sonic 2 built on the previous game with enhanced graphics, however, the core gameplay was the same. The only thing they tweaked was the ability to "charge" sonic up and then let him fly along the level in a ball of blue hedgehog. This new mechanism was a brilliant addition by Sega. Another new addition was Super Sonic. If you had collected all seven of the Chaos Emeralds in the Special Stages, Sonic could unleash his Super Form. to do this Sonic must have 50 rings and then jump into the air. When in Super Sonic mode, Sonic glows yellow and is virtually invincible.
Again, Sonic 2 changed things, this time with the Special Stages. Instead of pinballing around a level, Sonic and Tails ran along a course collecting rings and the elusive Chaos Emerald. Sonic 2 was yet another hit for Sega and continued Sonics' rapid rise in video game fame.
Soon after Sonic 2 was released, the inevitable Sonic 3 was rumoured, and to everybody's relief Sonic 3 was released to the masses. It again built on its predecessor, and improved on the graphics front (as much as you can with sprite graphics). It still included the Chaos Emeralds, Super Sonic and Dr Robotnik. However, there was a new Enemy, Knuckles. Knuckles tried to stop Sonic at every turn. The dastardly Dr Robotnik had tricked Knuckles the Echidna into thinking Sonic was a threat to his home.
Knuckles was an instant hit with the Sonic fans, and due to that Sega decided he warranted a game where he was a playable character, thus Sonic and Knuckles was born. Sonic and Knuckles worked as a stand alone game, but had the added functionality of a system called Lock-On Technology. This allowed the previous versions of Sonic to be plugged in combine the two games together and added new elements to the game, except for Sonic 1, which when plugged into the Knuckles and pressing the A, B and C buttons together, a minigame based upon the Chaos Emerald bonus levels is unlocked called Blue Sphere.
Sonic and Knuckles was the last Sonic game to be released on the Megadrive, and ultimately was the last decent Sonic game to date. Since his change from 2D to 3D Sonic entered a downward spiral of poor games, with equally poor gameplay that did not live upto the speed and skill needed for the original trilogy and Sonic and Knuckles. After the failure of Sega's Saturn and Dreamcast consoles, Sega dropped out of the console market and focused on creating and publishing games, and since 2000, Sega have published a Sonic game every single year, to which none of them were any good. Even the games Sega claimed would capture the essence of Sonic, which the fans craved for and was sadly missing, flopped with disgrace. For someone who grew up loving Sonic, this is a sad turn for the blue hedgehog. Personally, I would be happy if I never saw another Sonic game again, just so we are not disappointed again. However, this will not happen as today's kids still love Sonic, and rightly they should, the idea of a super fast blue hedgehog who has superpowers is just brilliant. But Sega has ultimately set their sights on this demographic, as their previous efforts failed to rekindle the older gamers love of Sonic.
So where does Mario fit into all of this? Well he still lives on strong and just keeps getting better and better. Since his debut in 3D on the N64, Mario has embraced the 3D world with relish. Mario absolutely loves it, and 3D loves Mario. The slower pace and platforming suit Mario perfectly, and has resulted in some f his best games - Super Mario 64, Super Mario Sunshine and Super Mario Galaxy. So does this mean Mario has won the battle that has been going on between gamers for nearly twenty years? Maybe, but as long as there are still Sega Megadrives out there (and the emulators) we will always have Sonic at his best!
Download Games -
Unlimited Games Downloads
Copy your video games -
Make Back Up Copies Of Your Favorite Video Games
Satellite TV on Your PC - Get over 3000 STATIONS on your PC or Laptop! -
Instantly Turn your Computer into a Super TV


Addicts exist in all forms of society, be it alcohol, gambling or video games. Video game addiction is the latest to pop up in the media as being a great concern for today's youth. According to some studies, nearly 10% of American youth (ages 8-18) are clinically addicted to playing video games.

Should you, parents and authorities be concerned?

According to one study, approximately 23% of youth felt they personally were addicted to video games, while 44% claiming their friends are addicted. Assuming that addiction is generally a negative phenomenon, these youth are concerned about themselves and their peers.

Potential negative eddects of video game addiction are:

Detachment from reality

Gamers who spend many hours playing games are by definition not paying attention to what is happening in the world around them. They can become interested in the fantasy or make-believe world inside the game than in the real world.

Violent Personality

Many adults have raised concerns about the violent nature of many video games. Indeed, at least a few cases exist of teens acting out the actions modeled in games, although hard data is hard to com by.

Games such as Grand Theft Auto include theft and sexual crimes. Parents obviously are concerned about their children taking part in these activities, even if it not "real".

More common is the "war" type of game where the gamer merely shoots another combatant.

Impact on Physical Fitness

Just as having a desk job often correlates with an overweight condition, so young adults who are heavily into video gaming have a tendency to be overweight. Clearly when sitting on a couch or the floor playing a game, one cannot be burning off many calories, although the Wii Sports and Wii Fit have addressed this issue to a degree. In addition, many gamers tend to snack on junk food and sugar-laden soft drinks while playing for long periods of time, which as a regular diet can cause obesity and diabetes in the future.

Mental development and thinking habits

Gamers addicted to playing video games may also suffer in their mental development, especially if homework and reading are neglected. While some gamers have argued that many games require critical thinking to play them successfully, others point out the nature of the typical game is quite limited in scope. In other words, one is limited by the world in which the game developer wished to create. Also, video games have been accused of reducing children's attention spans, both in and out of school.

Gamers' perspective

In response to claims of video gaming addiction, gamers point out several facts. First, addiction can take many forms, and video gaming addiction is much less harmful than say, alcohol or drug addiction.  Second, many adults have addictions such as to caffeine and sugar and they seem to function reasonably well in society.

Advancing video game technology means games are becoming more realistic and immersive. This may mean an increase in video game addiction. The debate as to whether video game addiction is truly harmful will continue to be hotly debates, as gaming is becoming one of the biggest forms of media to date. The industry is on par, even in front of, the movie industry in terms of revenue.

Download Games -
Unlimited Games Downloads
Copy your video games -
Make Back Up Copies Of Your Favorite Video Games
Satellite TV on Your PC - Get over 3000 STATIONS on your PC or Laptop! -
Instantly Turn your Computer into a Super TV


Controversy has surround video games for decades. Varying opinios are held on the issue of violence in video games. Since some studies indicate that as many as fifteen percent of gamers show signs of video game addiction, the presence of violence in games is equally troubling to some.

Parents

It's a parents right to be concerned about their childrend, and many parents are concerned about the influence games have over their children. They wonder whether certain games will cause their children to exhibit aggressive behaviors which they otherwise would not.

In fact, several instances exist of children who have, in fact, planned attacks on others based on specific gameplay. At least a handful of these have actually been carried out. Parents are rightly concerned that their children are not unduly influenced to display antisocial and criminal behavior.

Gamers

The opinion of gamers on this issue, as expected, is all over the map, but most serious gamers are content to let individual gamers make up their own minds. They acknowledge that a few isolated incidents exist where gamers appear to have been encouraged in taking violent actions based upon a specific game, but point out it was likely the individual would have found some other example to model, such as a movie, television show, or book.

Ministers and educators

Many influential people, such as ministers and educators, feel that the presence of violent video games is bad for society. Their existence provides a degree of legitimacy for the use of violence. Young people may get the idea that it perfectly acceptable to use violence to resolve personal conflicts rather than seek alternative methods.

Legislators

Our law makers have also become involved in the controversy. Many Congressional hearings have been held to debate this issue. Laws have been passed both at the national and local level, with many cities passing laws banning specific games. These cities' laws are often later overturned.

Gaming industry

In response to initial legislation during the 1990s, the video gaming industry created the Entertainment Software Rating Board (ESRB) which rates video games (similar to ratings for films). This was essentially a self-policing action designed to prevent further intrusion by various levels of government.

Ratings include: EC (Early Childhood), E (Everyone), Everyone 10+, Teen, Mature, Adults Only, and Rating Pending.

The ratings serve to guide parents and their children about the appropriateness of specific games to the child's age and maturity level.

In addition, video games contain "content descriptors" on the back of the game to further describe the game's content.

Conclusion

The controversy over video game violence will certainly not be resolved anytime soon. In fact, it will probably escalate along with the advances in graphics and gameplay with the major gaming consoles. The best approach is to stay informed and to make decisions based upon what is right for you and your family.

One of the main problems regarding video games is that many people believe they are aimed at children. Whilst this is true in some cases, most games are aimed at a much more mature audience. Children, teenages and young adults are naturally drawn to video games as they provide hours of fun and an escape from the real world, much like a book, but in a more involved and usually adrenaline packed way.

The controversy over video games, will certainly not be resolved anytime soon. More accurately, it will likely escalate due to the advances in graphics and gameplay with the major gaming consoles.

The best approach is to stay informed about the games industry, especially if your children are avid gamers. Make decisions that are right for you and your family. Also, don't forget game developers do all they can legally to make sure the game does not fall into the wrong hands. Games have an adult rating for a reason and this is the biggest indication of whether the game is appropriate or not.

Download Games -
Unlimited Games Downloads
Copy your video games -
Make Back Up Copies Of Your Favorite Video Games
Satellite TV on Your PC - Get over 3000 STATIONS on your PC or Laptop! -
Instantly Turn your Computer into a Super TV


Looking back, 2008 had many great Xbox 360 games, from Gears of War 2 to Banjo-Kazooie to Braid. The flood of good games continues, here are two great games that are already out for the Xbox 360 and one well worth waiting for.

X-Blades
Game developer, Gaijin, has been working on an anime-style action title for some time now. The game is called X Blades and stars tenacious treasure hunter Ayumi. Ayumi is an extremely powerful fighter with swords, guns, and magic all at her immediate disposal.
The story follows Ayumi as she attempts to find the ultimate artifact, whilst being under a deadly curse.
Gameplay sections are split up into what are called Dungeons. It's much like a role-playing game. As you kill enemies, you collect experience points and must decide which items, spells and/or gun and swords upgrades to spend them on. Guns, swords, and magic are all mapped to their own button, providing much potential for successful attack patterns and combinations, as each enemy has it's own weakness.
X-Blades provides fast and addictive action intertwined with an intriguing story. X-Blades is out now, so if you haven't got it grab it now!
Halo Wars
The Halo franchise goes from fantastic shoot 'em up to masterful strategy game. Who would of known?
Halo Wars had been in development cycle for many years, and Ensemble Studio has create a game that is breath-taking. It is real-time strategy game based on races, federations and locations from the original Halo games, yet taking place 20 years before the events in Halo: Combat Evolved occur, so no Master Chief, but all is not lost.
The game appears to be much more story-based than you might think for an RTS. A gorgeous cutscene at the beginning of the game introduces key characters from the series and sets up the story.
Halo Wars makes excellent use of the Xbox controller, especially for an RTS. It's simple and convenient to select and order various troops, and the combat is exciting. Each unit has it's own secondary attack that must recharge after being used. This adds a whole new strategical depth to the genre.
Halo Wars is extremely popular. Not only is a great game, but, well, it's Halo, the Xbox's biggest franchise. It wouldn't make sense to have an Xbox and not have Halo Wars...
Splinter Cell: Conviction
After four excellent Splinter Cell games, Conviction will take things to an entirely new level of realism and immersive stealth-action gameplay.

Protagonist Sam Fisher, after the events that took place in Double Agent, is now on the run from the government. This scenario opens up an entirely new style of gameplay. As the police force searches for you, you must blend into crowds and respond properly to certain situations that presents themselves. And due to advanced physics and AI, you can manipulate your environment in ways you never before dreamed of.

An example of this is the "grabbing" system. Anything that you think you should be able to manipulate, you can do. At a demo showing of the game, Sam Fisher snuck past a couple cops in a populated area by causing a ruckus to distract them. How did he do that? He snatched a laptop at a nearby table while a man was using it. It has also been shown that if you are being chased, you can dash inside a room you can block the door with objects and barricade yourself in.

Tom Clancy's Splinter Cell Conviction is yet to be released, but from what has been seen it will be a game worthwhile for the wait.

Xbox repair -
Xbox 360 repair guide
guide to repairing your Xbox 360
Xbox 360 guides, downloads, backups -
Everything for Xbox 360 - free newsletter
2008 was a rather underwhelming year in terms of the Wii games that were released, things are going to get better in 2009. Or at least, it's looking that way. Here are three three games that hopes are will take true advantage of the Wii's hardware this.
Punch-Out!
What is it about revivals? The film industry are doing it and so is the game industry. But we can let Punch-Out off, as it is well worthy of a remake. The last time Punch-Out!! was released was in the form of Super Punch-Out on the Super Nintendo.
The games thrive off of action involving well-timely executed attacks. The older games sent you through a series of fights and boss battles, where each person had their own timing you had to figure out. An obvious upgrade in the graphics is present with a cartoony, cell-shade look that is not only sure to please fans of the franchise, but also hook outsiders who will soon want to give it a try.
The original Punch-Out remains both unique and fun to this day, so how can a remake by the best of developers go wrong?
MadWorld
MadWorld is one of the most unique games to appear on any system this generation. It is also one of the most violent, but that's a good thing. One of the most unique aspects of MadWorld is its graphics, everything is in Black and White, except for the blood and guts. Yes, it's that kind of game...
When your character can make a chainsaw come out of his arm, you know that a gore fest is what's in store. The action is very stylized and combo-oriented. Whilst battling it out with enemies in urban areas, you can deal all kinds of damage, from shoving stop signs through enemies' heads, to reaching inside someone's chest and ripping his heart out. Meanwhile, a humorous voice announces each move as you perform it, commentating as if it were some kind of football game.
Definitely not for the faint hearted, but MadWorld's presentation and gameplay has us curious...
The Conduit
Not many developers' would argue that the Wii is, technologically, inferior to the PS3 and the Xbox 360. The Conduit developers, High Voltage, believe differently. they believe the Wii is the better and want to prove it with The Conduit.
The Conduit is a first-person sci-fi shooter, with gorgeous detail. High Voltage has put a lot into this game, and it's showing. The game will not only have an extended singleplayer campaign, but a 16-player multiplayer online mode.
The Conduit is certainly taking the Wii to the limit and is definitely worth checking out.