Video gaming systems have expanded  since the Atari. Over many years, video games have evolved from simple one player games to complex gaming systems with a whole host of add on peripherals designed to bring players a gaming experience that rivals real life.
The best system that really brings players into the games they play is the Xbox 360 video game console. Developed by software giant Microsoft, the system was first released in late 2005 and quickly sold out around the world. Since then, the new components and accessories introduced for the Xbox 360 have helped it remain as one of the top selling video game consoles in the world.
The Xbox 360 comes in three different versions: the arcade console, the premium console and the Elite console. Each console has its own set of add ons and accessories. One of the most unique qualities of the Xbox 360 is its Xbox Live component. This component allows subscribing players to interact with other gamers around the world. They can interact with other players around the world via the chat function while playing games with or against people around the world. Xbox Live users can also download different content, games, TV shows and movies only available to Xbox Live subscribers.
Xbox 360 also boasts a wide variety of add ons to help players enhance their game playing experience. For example, players can use both wired and wireless controllers, specialized headsets and webcams for chatting with other players along with dance and exercise mats to use with certain games.
The Xbox 360 has a vast selection of games for players of all interests to enjoy. One look at the available games for the Xbox 360 show traditional war and fighting games, along with games designed for women, girls and preschool aged children.
There really is something for everyone in the family with the Xbox 360. That's why the Xbox 360 is a great gift for anyone in your family this Christmas. Hey, you might even want to think about getting an Xbox 360 for yourself this year. With all of the different interactive games, you're sure to find something that interests you and helps you spend your precious free time having fun!
If you'd like to play your games with crystal-clear sound but don't want to spend lots of money on it, consider the Ear Force X12 Headset. These big 50 mm speakers generate excellent highs and deep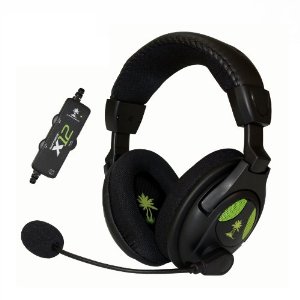 lows. The in-line amplifier makes for quick access to volume controls and bass for your video game and chats. Because it has a separate connection for microphone and line signals, the X12 is an excellent pair of headphones for PC video gaming.
The top selling XBOX gaming headset of all time is the legendary X11, and the X12 builds on that success, by adding 50mm speakers, together with adjustable bass. The outstanding sound quality gives the X12 an advantage over other speakers. You are going to notice sounds on the X12 that you didn't hear with regular speakers. You'll be able to quite easily hear the sound of footsteps or the sound of a weapon being loaded from a distance. You will be able to react more quickly since you will be able to pick up the discreet noises rather clearly. You can play for extended periods with these headphones as the ear cups are big and heavily padded.
The X12 will provide you with a gaming experience unlike what you've had before, especially if you are truly serious about your gaming sound. You'll be able to very easily make audio corrections while spending long hours with the comfortable and well-cushioned ear cups. You can also make immediate adjustments to game audio and chat volumes due to the independent controls. There aren't any adapters or batteries needed, since the power supplied to your amplified Xbox 360 headset is supplied by a USB connection. The reviews for the X12 have been mostly good so you probably won't make a bad choice by buying it.
Several of the positives that are listed include, the super-sensitive mic picks up even mumbles and whispers, which is a huge factor in why many are getting this headset. A lot of buyers also like the fantastic audio quality and the Bass Boost dial bass control. The headsets aren't noise canceling but the outside noise is considerably diminished. Lots of buyers who wear glasses also found the headsets to be quite comfortable. When it comes to problems, a few people found the mic a tad too sensitive to the point it picks up an excessive amount of background noise. Others don't like to hear their own voice when they do chat. It has an indicator if the mute is on or not. However, the way the mute is placed, it could be switched on or off by mistake quite easily.
If you used headsets previously, you might observe the difference with the X12. For many people it's going to be a huge improvement, and for others it might not. It is best to give it a try for yourself to find out if it is best for you.
With E3 having drawn to a close, one of the most exciting scenes on display was the new trailer for Metal Gear Solid: Rising, the spin off title from the incredibly successful Metal Gear franchise. Rising actually takes place between MGS2 and MGS4 and follows Raiden, a recurring support character from the series.
Raiden as a character has divided fans of the franchise for many years since his debut. Before Metal gear solid: Rising, when he was revealed to be the protagonist of MGS2, replacing the established and popular Solid Snake, many fans were upset and angered. It didn't help that he reportedly came across as whiney and juvenile, his generic pretty boy appearance in stark contrast to the gruff and able Solid Snake fans had come to love.
However, Raiden returned in MGS4 as a non-playable character, and instantly took the gaming world by storm. Free from the burden of carrying the game on his shoulders and with a reinvented persona which saw him more mature and deadly, Raiden played a pivotal role in the story and his action scenes were easily the best in the game. He had gone from being the joke of the franchise to stealing the show. Now he is set to return to main man duties in Metal gear Solid: Rising.
Little is known about this title so far, with the teaser trailer only offering a brief glimpse of gameplay. However, Metal Gear Solid: Rising did showcase an interesting quirk which allows Raiden to enter a 'bullet-time' like mode, wherein you can plot the course of his sword slashes and therefore make for some interesting (and gory) attack methods.
Some fear that Raiden is not meant to lead a game, and that his recent successful return is owed to the fleeting quality of his appearances. That said, his reinvented character, along with the impressive looking teaser trailer, is beginning to douse the fears of many. Metal Gear Solid: Rising could mark the advent of one of gaming's greatest spin-offs!
The 'Westerns' genre has been a troublesome act to sell within the gaming world, most titles based on the period flunk dramatically. Nevertheless, Rocksteady's latest title, Red Dead Redemption, has gained almost worldwide acclamation from critics and gamers alike. It's being championed as the complete Western experience in gaming.
Red Dead Redemption is a sandbox title, wherein you inhabit an open world and are principally free to discover it as you like. The plot follows John Marston, a former outlaw who's blackmailed by the government to seek out his past gang members and spread further legislation and order throughout the frontier.
Apart from the principle story, there is loads for players to do. Gamers can hunt for meals, play games of poker, take extra jobs and be a part of stakeouts, to call but a few. The title additionally incorporates a morality system much like such games as Fable, wherein your deeds will impact your fame and cause strangers to react accordingly. Red Dead Redemption makes in depth use of period accurate weapons and even different breeds of horses. The validity of the game is what has won it such high praise.
Free world games are becoming much loved within the videogame society, and with Red Dead Redemption it is easy to see why. Gamers can immerse themselves in an enormous and interactive world, free to play precisely as they see fit. Add in thrilling gunplay and a deep storyline, and you're set to join the love of Red Dead Redemption.
Not even a year since the release of Street Fighter 4, Capcom have already followed up with the sequel; Super Street Fighter 4. This fast-tracked release may come as a surprise to some, but veterans will know it's a time-honoured Capcom tradition, especially harking back to Street Fighter 2 and its myriad versions. So why bring out a sequel so soon after the initial release?
You need only play the new version to get the answer. Super Street Fighter 4 has improved upon the original in every way, which is quite a compliment considering the original is considered a near perfect Beat Em Up. Most importantly, the sequel brings an additional 10 new fighters to the competition, bringing the tally to a whopping 35 characters. The slim roster was a sore point for many when considering the original, but that has been fixed with a great range of fighters.
Of the 10 new combatants, 2 are completely new while the other 8 have featured in past Capcom titles. Juri and Hakan are the new fighters for Super Street Fighter 4, and offer a diverse style of play. The sadistic yet seductive Juri, a Tae Kwon Do master, offers a speedy and combo-heavy approach. Hakan, conversely, is a comedic Turkish oil wrestler, specialising in grapples and heavy hitting in the same vein as Zangief. The rest of the newcomers include fan favourites Ibuki, Cody and Dudley.
However, new fighters isn't the only thing Super Street Fighter 4 brings to the table. The online mode has been augmented dramatically, featuring the 'endless battle' mode allowing friends to have continuous battles, along with replay modes and clearer layouts. The nostalgic bonus rounds from past entries make a return, and a range of new stages have been included for good measure.
Understandably, some may think it cheeky to bring out a sequel less than a year since the original and expect players to shell out again. Fear not though, Super Street Fighter 4 comes at a reduced price, and is definitely worth the purchase. The range of new fighters bring a whole new dynamic to the gameplay, and all other features have been improved dramatically. This is the icing on the cake of one of the best fighters in years, and Capcom are fully justified with this amazing offering.
The onslaught of recent JRPGs continues this month with the release of Resonance of Fate from developers Sega. Following hot on the heels of bigger names Final Fantasy and White Knight Chronicles, this title was in danger of being completely esclipsed, but has in fact proved to be a dark horse entry, gathering a rising level of appreciation from genre fans.
Resonance of Fate revolves around a future civilisation which is crumbling into chaos. Vast cities are being poisoned whilst the aristocratic upper classes do nothing to help, and you command three characters fighting for justice. Gameplay revolves exclusively around gun battles, and as you progress further your firearms can be customized and augmented.
The combat system employed throughout Resonance of Fate has divided audiences. Initially, it is quite unforgiving and piles a lot of information onto the player at once, making it all seem quite difficult when starting out. However, commit a few solid hours to mastering it and the result is an intricate and dynamic system displaying balletic gun battles.
Graphically, the game is impressive to look at and provides a detailed steampunk style world. The characters are pretty in a generic anime way, although the ongoing 'boutique' feature, which allows you to customize your characters appearance throughout Resonance of Fate, is a great addition.
Overall, this is a great addition to the JRPG genre. It takes a risk with the age old combat system and, whilst the result won't be to everyone's taste, it is a commendable effort. It looks great and crucially includes the favourite RPG elements such as towns and NPC interaction, which have been curiously missing in other recent high profile offerings. If you're a fan of JRPGs with an individual twist, give Resonance of Fate a try.
Released just a few weeks ago, the Dante's Inferno videogame has caused quite a stir in the gaming community. The subject matter, which is very loosely based on the titular poem, has been met with scorn by some and certain countries even refused to advertise it. However, this kind of notoriety is often a good thing, as it gets audiences interested in what could be causing such an outcry.
The story follows Dante as he journeys through the various circles of hell on a quest to rescue his beloved Beatrice. But as he ventures deeper into the Inferno, darker secrets are revealed and the truth about his quest comes to light. Dante must battle his way through using Death's scythe, which he took from the spectre having defeated him in single combat!
Now, let's get this out of the way early- the Dante's Inferno video game has been accused of being a rip off of the God of War series, to the point at which the combat system is supposedly almost identical. Well, this is really dependent on your point of view. God of War certainly didn't begin the hack and slash genre, it just does it best, and thus all subsequent games will be measured against it. If a game can come close to emulating God of War, surely that's a good thing?
And the Dante's Inferno videogame is doubtless its own master. The combat system is actually an intricately fashioned tree of possibilities as you employ Dante's two methods of attack; his scythe and holy cross. These weapons can both be levelled up as you progress through hell. Dante will come across lost souls in both combat and non-combat situations, and the player can choose to either punish or absolve them. This will level up either weapon correspondingly.
Hell itself has been nicely designed, and there are definitely echoes of EA's earlier horror offering- Dead Space. The landscape is teeming with writhing damned, impaled prisoners and rivers of blood, whilst the different circles will offer their own slant on things. Journeying through Lust will unveil mutated phallic symbols and darkly seductive enemies, whilst Greed will display unfortunates encased in gold.
Dante's Inferno has had a rough ride at the hands of all the God of War fanboys, but is definitely a great game in its own right. Sure, there are a couple of drawbacks- the game is a little too short and some of the environments begin to look over familiar, but these gripes are cancelled out by an empowering combat system and imaginative boss battles and imagery. The Dante's Inferno videogame should be recognised as a great effort from EA, and I urge you to try it out.
Halo: Reach is the forthcoming (and final) chapter from current developer studio Bungie, bringing to an end their reign over the Xbox Halo franchise. Set in 2552 on the human planet Reach, and players once more adopt the Spartan colours as Noble 6 and, along with Noble Squad, the gamer will have to defend their planet from the terror that is the Covenant. However, Halo: Reach is a prequel to Bungie's first award winning "Halo: Combat Evolved" title.
Originally designed to be an improved version of the Xbox Halo franchise entry Halo 3, the notion was dropped, Bungie stating they would redesign and improve the quality of the Halo 3 designs. Harking back to the Halo: Combat Evolved concept ideas, this effectively means the new weapon, armour and covenant designs in Halo: Reach will deviate greatly from prior entries but uphold the ethos of the Xbox Halo franchise.
Hinting that Bungie will not cap the Xbox Halo franchise without a bang, the producers are looking to dramatically increase the graphical quality of all gaming areas, even including the weaponry. This clearly required Bungie to create a fresh new engine in Halo: Reach, with the AI augmented and nudged to provide better support for the player as they battle the Covenant.
So after all these promises of fusing greatly refined graphics and improved AI and designs, will Bungie leave the Xbox Halo franchise with a bang and cement their reputation for producing the best FPS for the Xbox 360? The only way to find out is to grab a copy when it is released later this year!
Since the original Xbox console was released all those years back, Microsoft's online network known as Live has given the ability to enjoy multiplayer games on the web. The network formed the precedent by which all future online system support would be compared, and has received great popularity through support of arguably the best online multiplayer games ever made. It has lead to quite a stir, then, since Microsoft have claimed that original Xbox Live cancellation is to be brought about in the coming months.
This announcement has brought with it many questions, some of which should be answered here. The very first thing to remember is this statement doesn't include Xbox 360 and games for that system. Only the original Xbox, and games released for that platform, will be affected by this. Microsoft assure game-players that the original Xbox Live cancellation was not made without consideration and that they are totally greatful to the gamers who have made Live the success it is.
The news is a bit of a downer to some gamers. Though greatly outdated and surpassed by the 360, the Xbox retains a strong cult popularity, with many of their games still being played by customers. The clear example here is Halo 2, which keeps a sizeable following on Xbox Live. However, being a game released on the original platform, it too will be affected by original Xbox Live cancellation.
And so why are Microsoft implementing original Xbox Live cancellation? To apply all resources and effort to the Xbox 360 and upcoming projects, the company are cancelling this feature. With promising features like Project Natal heading our way, Microsoft are set on applying all they've got into delivering the best they possibly can, and assure gamers that the final result will be worthwhile. The original Xbox Live cancellation is a shame for those involved, but the future holds grander things and Microsoft want to dedicate all efforts into delivering the excellent service they always have.
Microsoft are continually venturing to make the Xbox Live experience as fun and interactive as they can for existing users and newcomers to the system. As the possibilities grow, Microsoft are able to promote various awesome features online, such as Twitter, Sky and Netfix. Amongst the noteworthy and exciting approaching projects is Xbox 360 virtual arcade, which is garnering much excitement from users.
Microsoft are building upon the ability to play classic games online by developing the new Xbox 360 virtual arcade. The intention is to re-introduce certain titles which many older and sentimental game-players would like to revisit. Whilst a lot of those games may appear simplistic or maybe comical to the audience of today, Microsoft state that many are still awesome titles worth looking into.
Examples of the titles lined up for this feature include such classics as Rocket Knight, Centipede, Streets of Rage and even fan fave Asteroids. These games will mean absolutely everything to those players who grew up with them, and offer a nice aside to the bigger games of our day. The Xbox 360 virtual arcade even offers gamers their very own interactive arcade room. When a player buys one of these classic titles, they are able to place it anywhere in the arcade, and they even appear in the classic arcade machines!
Lastly, Microsoft's new feature is completely interactive, so gamers can ask their buddies to visit and play in their own arcade. Voice chat is included together with avatars, leaderboards, multiplayer features and more. In exchange for Microsoft points you are able to forge your very own Xbox 360 virtual arcade, and sample some classic games with your pals!