If you'd like to play your games with crystal-clear sound but don't want to spend lots of money on it, consider the Ear Force X12 Headset. These big 50 mm speakers generate excellent highs and deep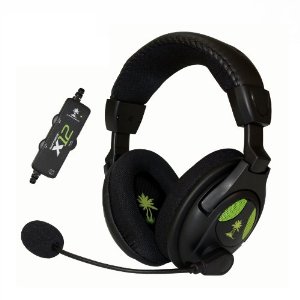 lows. The in-line amplifier makes for quick access to volume controls and bass for your video game and chats. Because it has a separate connection for microphone and line signals, the X12 is an excellent pair of headphones for PC video gaming.
The top selling XBOX gaming headset of all time is the legendary X11, and the X12 builds on that success, by adding 50mm speakers, together with adjustable bass. The outstanding sound quality gives the X12 an advantage over other speakers. You are going to notice sounds on the X12 that you didn't hear with regular speakers. You'll be able to quite easily hear the sound of footsteps or the sound of a weapon being loaded from a distance. You will be able to react more quickly since you will be able to pick up the discreet noises rather clearly. You can play for extended periods with these headphones as the ear cups are big and heavily padded.
The X12 will provide you with a gaming experience unlike what you've had before, especially if you are truly serious about your gaming sound. You'll be able to very easily make audio corrections while spending long hours with the comfortable and well-cushioned ear cups. You can also make immediate adjustments to game audio and chat volumes due to the independent controls. There aren't any adapters or batteries needed, since the power supplied to your amplified Xbox 360 headset is supplied by a USB connection. The reviews for the X12 have been mostly good so you probably won't make a bad choice by buying it.
Several of the positives that are listed include, the super-sensitive mic picks up even mumbles and whispers, which is a huge factor in why many are getting this headset. A lot of buyers also like the fantastic audio quality and the Bass Boost dial bass control. The headsets aren't noise canceling but the outside noise is considerably diminished. Lots of buyers who wear glasses also found the headsets to be quite comfortable. When it comes to problems, a few people found the mic a tad too sensitive to the point it picks up an excessive amount of background noise. Others don't like to hear their own voice when they do chat. It has an indicator if the mute is on or not. However, the way the mute is placed, it could be switched on or off by mistake quite easily.
If you used headsets previously, you might observe the difference with the X12. For many people it's going to be a huge improvement, and for others it might not. It is best to give it a try for yourself to find out if it is best for you.