It's the time of the year when this years blockbuster movies come out in succession. It's also the time when movie games, based on said movies, come out to coincide with the movie release. Video games based on films tend to sell very well, but don't tend to be very good. This year, however, the games are looking fantastic. So what is in store for this summer?
X-Men Origins: Wolverine
Who wouldn't like to control a regenerating, virtually indestructible, claw wielding superhero? Well, in X-Men Origins: Wolverine you get to do just that! Developed by Raven Software, Wolverine is the video game companion to Marvel's summer blockbuster of the same name. The plot for the game is not directly related to the movie, but it does feature Hugh Jackman as Wolverine in both his likeness to the character and his voice.
For a Marvel video game it is quite a bloody affair. Wolverine's claws rip through Weapon X security guards, leaving pools of blood and dismembered body parts all over the place. This is no surprise, since Raven Software created one of the most bloodiest game series ever, Soldier of Fortune. It seems Raven have took the idea of Wolverine having these claws and put them into context in the real world and in the real world sharp metal claws equals blood, blood and more blood!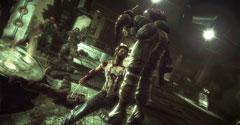 Graphics-wise Wolverine looks great, but this is to be expected. Movie video game tie-ins are expected to be as good looking as the films they represent. This usually has a unfortunate effect on the rest of the game as the developers focus on making it look like the movie and sacrifice gameplay, AI and other important aspects. However, in this case Raven Software have managed to not sacrifice the important aspects. The controls are fluid and intuitive with moves being mapped to only a few buttons and AI is generally good with the usual inclusion of cannon fodder.
In essence, X-Men Origins: Wolverine is just like its main protagonist, a raw, animalistic beast, and that's what makes it so good. Wolverine is available on the PS3, Xbox 360 and PC.
Terminator: Salvation
The new Terminator Salvation movie looks awesome. Many people doubted whether another film should be done especially after Terminator 3. The same could be said for the games. Terminator 3: Rise of the Machines was a poor game at best with the only cool thing about it was it had terminators in it. Then again most movie based video games generally aren't that great, but there are a few exceptions, and Terminator: Salvation is looking to be one of those games that will buck the trend.
The main reason for this is the inclusion of two-player co-operative play. While only limited to split screen, co-operative play has been a big hook since its inclusion in Gears of War. Not only that, GRIN the developers have put a lot of time and effort into creating a believable post-apocalyptic world and its shows.
In this post-apocalyptic world you, as John Conner, and your team carry out specific missions to take the fight to the machines. Conner can take cover behind various objects and trade fire whist behind them. But GRIN have designed the combat system to allow you to flank the enemy by exploiting the environment. This is a neat feature and adds another dynamic to the gameplay.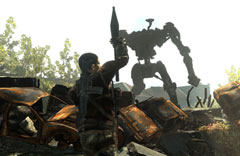 The games story takes place two years before the film when John Connor is in the military. It follows you as John Connor on his missions before the events of the film and his development into the heroic leader most fans know him as in the first couple of films. GRIN seem to have nailed the post-apocalyptic world of the Terminator universe, co-operative play and have developed a combat system that allows for various ways of taking down the machines. Terminator: Salvation looks like a movie video game worthy of the attention. Terminator: Salvation will be available on the PS3 and Xbox 360 when released.
Ghostbusters:
Yes Ghostbusters was released in the 80's but this is a game based on a movie franchise worth writing about. In essence the Ghostbusters game is the third film in the series (even though a third film has been announced). The story is written by the writers of the original film, Dan Acykroyd and Harold Ramis, so already it's a must!
The original cast has been faithfully recreated to look almost identical to what they looked like in the two films. The game negates having a heads-up-display to show information, like health, and instead opts for a similar system to Dead Space, were your proton pack displays all you vital information.
Now about those proton packs, apart from crossing the streams, you need to also worry about overheating, luckily you don't need to worry about ammo. The ghost-trapping gameplay works a treat, with you throwing out traps and slamming them with your proton beam, everything feels just as it should. The developers, Terminal Reality, have also managed to create an atmosphere that borders between scary and humorous. As you walk down spooky corridors you comrades start making fun of you or crack a joke of and occasionally shout out advice.
The graphics of Ghostbusters depends on which version you purchase, the PS3 and Xbox 360 versions have very realistic, shiny graphics that the owners almost expect to see these days, where as the Wii version has a more cartoony look to it. This maybe due to the lack of powerful hardware in the Wii, but it the chosen graphics work extremely well. You could go as far as saying it makes it feel that more Ghostbusters-y. Rumours have been flying around about co-operative play being included then taken out. If this is the truth it would be the only negative in what looks to be a great game. Hopefully, there is co-operative play as there would be nothing better than playing this game with three of your friends.
Which ever version you pick up, Ghostbusters looks to be a video game treat. Many fans have been waiting for a Ghostbusters game like this, me included. Ghostbusters will be released 16/06/2009 for the DS, PS3, PC, Xbox 360 and Wii.
Download Games -
Unlimited Games Downloads
Copy your video games -
Make Back Up Copies Of Your Favorite Video Games
Satellite TV on Your PC - Get over 3000 STATIONS on your PC or Laptop! -
Instantly Turn your Computer into a Super TV


Here at Video Game News Blog we have been trundling the web to bring you what we think will set your gaming experiences in 2009 on fire! Here is the second part of our Most Anticipated Games of 2009.

Ghostbusters (Windows, Xbox 360, PS3)
Dan Aykroyd? Check. Bill Murray? Check. Harold Ramis? Check. Ernie Hudson? Check. What more could you want? The original Ghostbusters from the cult 1984 film of the same name are here in what write, Dan Aykroyd, describes as "essentially Ghostbusters III". The story for Ghostbusters the game is written by the writers for the film, Dan Aykroyd and Harold Ramis. The best part of the game is you get to join the Ghostbusters a new recruit, testing out Egon and Rays new equipment. The story is set 2 years after Ghostbusters II and with the original creators and writers, as well as the cast, this should definitely be a worthy Ghostbusters storyline. The reason this game is on the list is two-fold, I am a Ghostbusters fan and also this game nearly didn't make it on to the shelves. After Activision and Blizzard merged, Ghostbusters was one of the games to be dropped. Luckily Atari where there to step in and to publish the finished game. Just remember, don't cross the streams!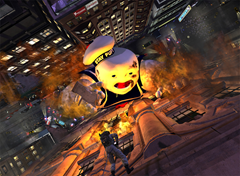 Gran Turismo 5 (PS3)
What would a Sony console be without a version of Gran Turismo released for it? Not a very good one. So far the PS3 has had the lacklustre Gran Turismo 5 Prologue, that at first whet our appetite but in the end just became a visual feast more than a next generation driving simulator. Gran Turismo is stated to having near photo-realistic graphics and superb attention to detail with the cars (this I can believe, as in an interview with Polyphony Digital they said it takes a minimum of a week to model just one car) and unparalleled driving physics. Could this really be the Real Driving Simulator the series claims to be.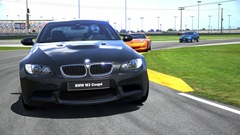 Halo Wars (Xbox 360)
The success of the Halo franchise on the Xbox and the Xbox 360 has rocketed Microsoft into one of the leading console manufactures and publishers. Halo 3 was one of the fastest selling games of all time. Now, Halo is taking a new direction into the realms of Real Time Strategy with Halo Wars, developed by Ensemble Studios. This Xbox 360 exclusive sets to change the way RTSs are played consoles and to change the opinions of RTSs belong on a PC with a mouse and keyboard. Halo Wars has a huge chance to be a massive success in 2009, with the popularity of Halo being so great, but also this is Ensemble Studios last game and they will want to go out with a bang.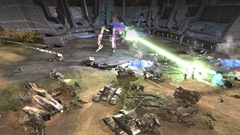 Final Fantasy XIII (PS3 and Xbox 360)
The most shocking news of E3 was when Microsoft and Square Enix announced that Final Fantasy XIII will be coming to the Xbox 360 in North America and Europe. Barring all flame wars on whether this is a good thing or not, Final Fantasy XIII will still be a great game and one of the most anticipated games of 2009. The success of the Final Fantasy franchise in the western world started with the release of Final Fantasy VII on the PlayStation and with XIII being released on the Xbox 360 in the West will mean more people will enjoy the delight Square Enix will produce. No doubt the graphics will be breathtakingly superb and the story, as with so many RPGs, will be full of twists and turns, as well as heart stopping moments. Final Fantasy XIII has all the makings of being one of the best games of 2009 and will be set to delight JRPG fans around the globe!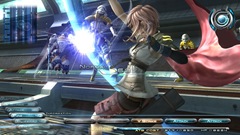 Diablo 3 (Windows)
Blizzard again grace the most anticipated games of 2009 list, this time with Diablo III. The secret project they were working on and us fans were hoping was coming, was finally confirmed at 2008's BlizzCon to massive rapture. Gamers will be delving into the depths of Hell to battle demons and the like to end the madness that plagues the Diablo world. Three of the five classes in Diablo 3 have been unveiled so far - the Barbarian, Witch Doctor and the Wizard - and this time players can choose the gender of their character as well. The graphics have taken on a massive overhaul from the last incantation and the art direction looks super awesome (though that is a matter of opinion and various petitions have been created to make it more "gothic"). Blizzard again look to have a sure fire winner with Diablo 3 and it is sure set to entertain me in late 2009.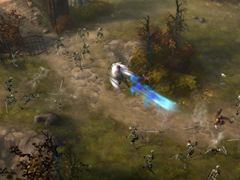 Download Games -
Unlimited Games Downloads
Copy your video games -
Make Back Up Copies Of Your Favorite Video Games
Satellite TV on Your PC - Get over 3000 STATIONS on your PC or Laptop! -
Instantly Turn your Computer into a Super TV