Halo: Reach is the forthcoming (and final) chapter from current developer studio Bungie, bringing to an end their reign over the Xbox Halo franchise. Set in 2552 on the human planet Reach, and players once more adopt the Spartan colours as Noble 6 and, along with Noble Squad, the gamer will have to defend their planet from the terror that is the Covenant. However, Halo: Reach is a prequel to Bungie's first award winning "Halo: Combat Evolved" title.
Originally designed to be an improved version of the Xbox Halo franchise entry Halo 3, the notion was dropped, Bungie stating they would redesign and improve the quality of the Halo 3 designs. Harking back to the Halo: Combat Evolved concept ideas, this effectively means the new weapon, armour and covenant designs in Halo: Reach will deviate greatly from prior entries but uphold the ethos of the Xbox Halo franchise.
Hinting that Bungie will not cap the Xbox Halo franchise without a bang, the producers are looking to dramatically increase the graphical quality of all gaming areas, even including the weaponry. This clearly required Bungie to create a fresh new engine in Halo: Reach, with the AI augmented and nudged to provide better support for the player as they battle the Covenant.
So after all these promises of fusing greatly refined graphics and improved AI and designs, will Bungie leave the Xbox Halo franchise with a bang and cement their reputation for producing the best FPS for the Xbox 360? The only way to find out is to grab a copy when it is released later this year!
The Xbox 360 is still arguably the most popular next gen console out there, mainly due to an impressive array of exclusive titles found only on that console, and Microsoft's ability to flash enough cash to buy titles previously exclusive to other systems, such as Final Fantasy. With this dominant approach, the Xbox 360 continues to offer a range of great games. Nearly halfway through the year, we list the three most impressive games to emerge on the system thus far;
#3: The Chronicles of Riddick: Assault on Dark Athena
We covered this game in an earlier preview, and Dark Athena is certainly enjoying the praise it deserves. Not only a sequel but also more of an expansion, this title features a port of the original Butcher Bay Riddick game, adding new content and a multiplayer option that the fans were crying out for. This game is undoubtedly one of the best movie-based games ever released.
#2: Halo Wars
Probably one of the most well loved gaming franchises in the world, Halo continues to dominate even as the developers, Bungie, break into new ground. Halo wars is the first game in the franchise to break away from the First person Shooter genre, instead playing as a real time strategy game. It's art style is unique, combat is intriguingly diverse, and it's singleplayer campaign should be pretty interesting as well for fans of the series looking for answers. This expands the Halo universe even further and is a must have for fans of the series.
Serving as a prequel to the wildly popular Star Ocean franchise, The Last Hope was eagerly anticipated by fans the world over. From developers Square Enix, this title was always going to be a deep, emotional and gorgeous game to play. Bringing the entire galaxy to bear in an adventure which will pit your RPG skills against a host of galactic enemies, Star Ocean: The Last Hope does everything you'd expect from a Square Enix game, and does it with style and beauty.
Wii music, Wii Games -
Unlimited Wii Downloads
Do you want to run the Homebrew application safely on your Nintendo WII? How about playing downloaded games and DVD`s? -
Unlock Your Wii Safely With Homebrewinstaller
Looking back, 2008 had many great Xbox 360 games, from Gears of War 2 to Banjo-Kazooie to Braid. The flood of good games continues, here are two great games that are already out for the Xbox 360 and one well worth waiting for.
X-Blades
Game developer, Gaijin, has been working on an anime-style action title for some time now. The game is called X Blades and stars tenacious treasure hunter Ayumi. Ayumi is an extremely powerful fighter with swords, guns, and magic all at her immediate disposal.
The story follows Ayumi as she attempts to find the ultimate artifact, whilst being under a deadly curse.
Gameplay sections are split up into what are called Dungeons. It's much like a role-playing game. As you kill enemies, you collect experience points and must decide which items, spells and/or gun and swords upgrades to spend them on. Guns, swords, and magic are all mapped to their own button, providing much potential for successful attack patterns and combinations, as each enemy has it's own weakness.
X-Blades provides fast and addictive action intertwined with an intriguing story. X-Blades is out now, so if you haven't got it grab it now!
Halo Wars
The Halo franchise goes from fantastic shoot 'em up to masterful strategy game. Who would of known?
Halo Wars had been in development cycle for many years, and Ensemble Studio has create a game that is breath-taking. It is real-time strategy game based on races, federations and locations from the original Halo games, yet taking place 20 years before the events in Halo: Combat Evolved occur, so no Master Chief, but all is not lost.
The game appears to be much more story-based than you might think for an RTS. A gorgeous cutscene at the beginning of the game introduces key characters from the series and sets up the story.
Halo Wars makes excellent use of the Xbox controller, especially for an RTS. It's simple and convenient to select and order various troops, and the combat is exciting. Each unit has it's own secondary attack that must recharge after being used. This adds a whole new strategical depth to the genre.
Halo Wars is extremely popular. Not only is a great game, but, well, it's Halo, the Xbox's biggest franchise. It wouldn't make sense to have an Xbox and not have Halo Wars...
Splinter Cell: Conviction
After four excellent Splinter Cell games, Conviction will take things to an entirely new level of realism and immersive stealth-action gameplay.
Protagonist Sam Fisher, after the events that took place in Double Agent, is now on the run from the government. This scenario opens up an entirely new style of gameplay. As the police force searches for you, you must blend into crowds and respond properly to certain situations that presents themselves. And due to advanced physics and AI, you can manipulate your environment in ways you never before dreamed of.
An example of this is the "grabbing" system. Anything that you think you should be able to manipulate, you can do. At a demo showing of the game, Sam Fisher snuck past a couple cops in a populated area by causing a ruckus to distract them. How did he do that? He snatched a laptop at a nearby table while a man was using it. It has also been shown that if you are being chased, you can dash inside a room you can block the door with objects and barricade yourself in.
Tom Clancy's Splinter Cell Conviction is yet to be released, but from what has been seen it will be a game worthwhile for the wait.
Xbox repair -
Xbox 360 repair guide
guide to repairing your Xbox 360
Xbox 360 guides, downloads, backups -
Everything for Xbox 360 - free newsletter
Getting the Most Out Of Your Xbox 360
Microsoft's Xbox 360 has now become one of the cheapest consoles available, providing players with arguably the most powerful next generation machine for a comparatively small price. However, there are a few other potential investments to consider once you have the console itself.
If you want to get the most out the console in terms of online gaming and interaction, you should subscribe to Xbox Live's Gold Membership. It's a lot less expensive than it used to be, and the only way to experience the Xbox online. The console generally comes with a free subscription for the Silver Membership, but this offer usually only allows you to buy downloadable content.
The Xbox also pips the competition by securing a wealth of great exclusive game franchises and downloadable content, which are unavailable to other consoles. Some of these games include Banjo-Kazooie, Halo, Ninja Gaiden 2 and Gears of War, and additional levels for games such as Tomb Raider Underworld.
You should also check out the Xbox Live Arcade for downloading some amazing classic games, as well as some great ports. Games such as Duke Nukem 3D, Geometry Wars, Castle Crashers, and especially Braid, are examples of good quality for cheap prices. In order to buy an Xbox Live Arcade game, however, you need points which can be traded for cash.
Next up there's Netflix. If you hadn't heard already, Netflix movies can now be streamed online and watched on your Xbox 360. For a monthly subscription you can get hours of online streaming and DVD rentals.
Perhaps most importantly, you should consider getting an HDTV. As with the Playstation 3, only through an HDTV can the Xbox's full potential be unleashed. Without one, you only experience a shadow of what the next generation console is capable of. With an HDTV, visuals are sharp and crystal clear with higher, better resolution. The difference is amazing, and should not be missed. The prospect of getting an HDTV may seem like an expensive one, but HDTV's are now less expensive than ever before. There are also some Xbox 360 bundles that come with a good HDTV.
By utilizing the many features and functions available to the Xbox 360 after purchase, you can turn an already impressive console into an amazing all round experience.
Xbox repair -
Xbox 360 repair guide
guide to repairing your Xbox 360
Xbox 360 guides, downloads, backups -
Everything for Xbox 360 - free newsletter
Here at Video Game News Blog we have been trundling the web to bring you what we think will set your gaming experiences in 2009 on fire! Here is the second part of our Most Anticipated Games of 2009.
Ghostbusters (Windows, Xbox 360, PS3)
Dan Aykroyd? Check. Bill Murray? Check. Harold Ramis? Check. Ernie Hudson? Check. What more could you want? The original Ghostbusters from the cult 1984 film of the same name are here in what write, Dan Aykroyd, describes as "essentially Ghostbusters III". The story for Ghostbusters the game is written by the writers for the film, Dan Aykroyd and Harold Ramis. The best part of the game is you get to join the Ghostbusters a new recruit, testing out Egon and Rays new equipment. The story is set 2 years after Ghostbusters II and with the original creators and writers, as well as the cast, this should definitely be a worthy Ghostbusters storyline. The reason this game is on the list is two-fold, I am a Ghostbusters fan and also this game nearly didn't make it on to the shelves. After Activision and Blizzard merged, Ghostbusters was one of the games to be dropped. Luckily Atari where there to step in and to publish the finished game. Just remember, don't cross the streams!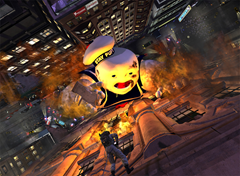 Gran Turismo 5 (PS3)
What would a Sony console be without a version of Gran Turismo released for it? Not a very good one. So far the PS3 has had the lacklustre Gran Turismo 5 Prologue, that at first whet our appetite but in the end just became a visual feast more than a next generation driving simulator. Gran Turismo is stated to having near photo-realistic graphics and superb attention to detail with the cars (this I can believe, as in an interview with Polyphony Digital they said it takes a minimum of a week to model just one car) and unparalleled driving physics. Could this really be the Real Driving Simulator the series claims to be.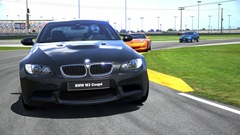 Halo Wars (Xbox 360)
The success of the Halo franchise on the Xbox and the Xbox 360 has rocketed Microsoft into one of the leading console manufactures and publishers. Halo 3 was one of the fastest selling games of all time. Now, Halo is taking a new direction into the realms of Real Time Strategy with Halo Wars, developed by Ensemble Studios. This Xbox 360 exclusive sets to change the way RTSs are played consoles and to change the opinions of RTSs belong on a PC with a mouse and keyboard. Halo Wars has a huge chance to be a massive success in 2009, with the popularity of Halo being so great, but also this is Ensemble Studios last game and they will want to go out with a bang.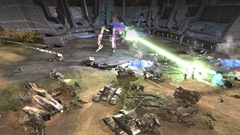 Final Fantasy XIII (PS3 and Xbox 360)
The most shocking news of E3 was when Microsoft and Square Enix announced that Final Fantasy XIII will be coming to the Xbox 360 in North America and Europe. Barring all flame wars on whether this is a good thing or not, Final Fantasy XIII will still be a great game and one of the most anticipated games of 2009. The success of the Final Fantasy franchise in the western world started with the release of Final Fantasy VII on the PlayStation and with XIII being released on the Xbox 360 in the West will mean more people will enjoy the delight Square Enix will produce. No doubt the graphics will be breathtakingly superb and the story, as with so many RPGs, will be full of twists and turns, as well as heart stopping moments. Final Fantasy XIII has all the makings of being one of the best games of 2009 and will be set to delight JRPG fans around the globe!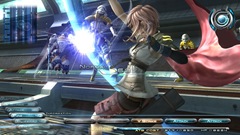 Diablo 3 (Windows)
Blizzard again grace the most anticipated games of 2009 list, this time with Diablo III. The secret project they were working on and us fans were hoping was coming, was finally confirmed at 2008's BlizzCon to massive rapture. Gamers will be delving into the depths of Hell to battle demons and the like to end the madness that plagues the Diablo world. Three of the five classes in Diablo 3 have been unveiled so far - the Barbarian, Witch Doctor and the Wizard - and this time players can choose the gender of their character as well. The graphics have taken on a massive overhaul from the last incantation and the art direction looks super awesome (though that is a matter of opinion and various petitions have been created to make it more "gothic"). Blizzard again look to have a sure fire winner with Diablo 3 and it is sure set to entertain me in late 2009.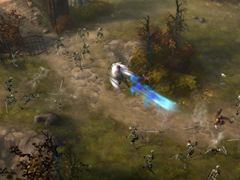 Download Games -
Unlimited Games Downloads
Copy your video games -
Make Back Up Copies Of Your Favorite Video Games
Satellite TV on Your PC - Get over 3000 STATIONS on your PC or Laptop! -
Instantly Turn your Computer into a Super TV