Massively Multiplayer Online Roleplaying Games (or MMORPGs) have been around for a while and have proven extremely popular with gamers. There are plenty of titles to choose from, however, one title has stood out the most, World of Warcraft. No other MMORPG has come close to getting the number of subscriptions Warcraft gets. Over 11 million people subscribe to play in the lands of Azeroth, that's a greater population than Ireland! Simply put World of Warcraft is the game to beat when developing a new MMORPG.
Many have tried to knock Warcraft off its pedestal and have crashed and burned in the process. Movie properties have tried to beat Warcraft, such as Codemaster's Lord of the Rings Online game, the popular war games franchise Warhammer has even created an MMORPG to tackle the might of Warcraft. While being popular in their own rights, usually with the fans f said franchises, they have never come close to the numbers Blizzard boast about when referring to Warcraft. Heck even Dungeon and Dragons created an MMO and they didn't beat them and they basically are responsible for what we know as an RPG!
The reason Warcraft succeeded where others haven't is primarily down to the fact it can run on virtually any machine, be it a low spec PC, high spec super gaming PC or a Mac. If you have a computer you can more than likely play World of Warcraft. People have even managed to play it on their Netbooks! Warcraft can play on a variety of machines because of the graphical choice the developers Blizzard made. Instead of top notch, realistic, intensive environments, Warcraft has its on cartoonish, fantasy world and it works. The first steps you take in Azeroth you admire the beauty of the world.
Blizzard also made sure they catered for all types of players – from a young audience to a more mature audience and casual players to hardcore players. The two different factions show this the best. The Alliance faction has more 'nicer' races to choose from that may generally appeal to a younger audience who want to champion the good, where as the Horde side is much more darker and perceived as more evil, is mostly played by a more mature audience.
If your just a casual player in Warcraft, you and your friends can roam around completing quests, or tackle an instance or even have friendly duels. To satisfy the more adventurous type, Blizzard created battlegrounds, where the two apposing factions could battle it out to control certain points on a map or capture the oppositions flag and fifty man raids against bosses that require tactics and skill to defeat. Arenas were created to increase the amount of player versus player (PvP) experiences, where players fought in gladiatorial style events. Blizzard catered for everyone and this is testimony to why they have so many subscribers.
Now there is a new breed of MMORPGs on the horizon. Comic giants DC are wading in on the MMORPG business with their new title DC Universe Online. But can this knock Warcraft from the top? Probably not. While the idea of the DC Universe being open to us to create our own super heroes or super villain is super cool, its been done before with NCSoft's City of Heroes and City of Villains. Also, the reason people love DC is for their great, charismatic characters like Superman, Batman, Green Lantern, Wonder Woman and Catwoman. What is the point of a DC game if you can't control these characters?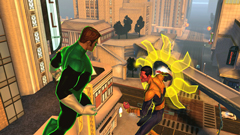 Another contender is Bioware's Star Wars: The Old Republic. Based thousands of years before the movies, The Old Republic charts the battle between the armies of the Sith and the Jedi's in a time that is relatively uncharted in the Star Wars Universe. And this is what will make it a real contender, there will be no Luke Skywalker, Han Solo, Princess Leia being badly voice acted (to us Star Wars fans as nobody other than the actors and actresses who played the beloved characters can voice them properly) will be present. The creators have free reign over how the story and game is developed.
Now this isn't the first Star Wars MMO to be developed. Star Wars Galaxies, the first MMO, was a success in retrospect and had a very loyal fan base. The developers made a difficult choice to leave out the Jedi class and instead opt for a difficult journey to become a Jedi. This was a great concept, as Jedi's where limited in the time period (between New Hope and Empire). Due to outrage of the fact you had to work to become a Jedi a slue of updates was released and changed the game from the one that the fans loved.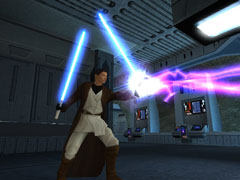 With the time period chosen with The Old Republic, this can be easily avoided, Jedi's and Sith alike are abundant and other classes can be chosen, like bounty hunter. And since World of Warcraft has nearly finished its lifetime, in terms of expansion packs and story progression, The Old Republic can come in and fill the void that will be left after Warcraft has ultimately finished.
These are only a couple of new MMORPGs that are being developed, many more like the Star Trek MMO have been announced, but since World of Warcraft is on its final journey with the Wrath of the Lich King and the many content updates that will come along in the next year or two that will lead up to the ultimate end fight with Arthas, a.k.a the Lich King, eleven million subscribers may need a new MMO to migrate to. There will be many choices for the gamers to choose from, but the one that will capture the market the way Warcraft did will ultimately by the game that succeeds.
Even if a new MMORPG comes in a takes the crown away from Warcraft after its end, Warcraft will still be perceived as the greatest massively multiplayer online roleplaying game ever. Until Blizzard release their new one that is…
World Of Warcraft Gold Guide -
World Of Warcraft Gold Secrets...
Zygors In-Game Alliance And Horde World Of Warcraft 1 - 80 Leveling Guides -
"Zygor Guides Has The Fastest Leveling Path In The Entire World! You Can Get To
Level 80 In Under 7 Days "
About Playstation Home
Playstation Home is an interactive function utilized on the Playstation 3. It is basically a virtual world wherein the player can customize features and interact with other players. This is a modern realization of "The Getaway Online", originally planned for the Playstation 2, which was cancelled and the idea put on hold. Forms of virtual social networking have become more and more common in consoles, and Sony intends to take things to the next level.
When first announced, there was talk of a full-fledged world with virtual theaters and gaming stores for playing demos, all of which are gradually being realized on the ever-expanding function. These include the ability to buy and personalize your own home, playing a real game through your virtual home, and traversing the virtual world interacting with other users. Both Playstation Network games and games on your hard drive or in your disc drive can be played in Playstation Home.
Users can immediately customize their own avatar, choosing from a wide variety of appearances, clothing and accessories. Next up you're free to customize your "Home-Space"(typically an apartment room, house, etc.) It's even possible to invite another user to your home and watch streamed videos on your virtual TV, if the video is installed on your hard drive. Also included are functions to upload pictures and hang them on your wall, listen to and show other users your music, and play online games together such as chess and bowling.
Communication between users is handled in a variety of ways including virtual keyboard, USB or Bluetooth keyboard, headset, and emotes: fixed text messages, expressions and emotional displays. The "virtual keyboard" appears onscreen with the press of a button, and players can input text with their controllers. However, it's recommended that you use a keyboard or headset (or both) to take full advantage of the communication aspect of the game.
Additional updates have been confirmed; Sony intends to add pets and additional clothing, amongst other features. The function is entirely free to play, but there will be certain in-game items that can be bought with real money at the Playstation Store. All of these dynamic and innovative functions have helped to make Playstation Home widely popular amongst users.
Psp downloads -
Download Psp Games, Psp Movies, Psp Tv Shows, Psp Software, Wallpapers.
more Psp downloads -
Millions of Psp games, fast game downloads