Following the release of the highly anticipated new Star Trek film by J.J Abrams, it is clear it is not a continuation from the last Star Trek film Nemesis, which was the last voyage of the Next Generation crew, but instead a reboot of the franchise from the beginning. It will not try and remake classic Star Trek films like The Wrath of Khan, it is instead a Star Trek in an alternate reality.
So what does this have to do with games? Well, as most blockbuster action films come with video games so does the new Star Trek film, Star Trek D-A-C.
Star Trek D-A-C is simple top down space game based on J.J Abrams aforementioned movie reboot of the series. It pitches the Federation against the Romulan Empire. Star Trek D-A-C allows you to choose between three ships, each with its own unique abilities that can help turn the tide of war. On offer are nimble fighters, powerful bombers and the almighty flagships. The new, sleek looking U.S.S Enterprise is available to Starfleet commanders.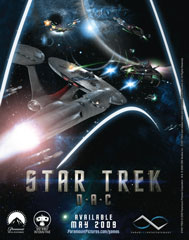 The game features three modes of play, singleplayer, online multiplayer and online co-op. For each individual mode there are a further three more game types, Assault, Conquest and Team Deathmatch.
Star Trek D-A-C is not like most film-based video games. The film-based video games have a similarly "big budget" as there film counterparts do, though not usually the same scale. Film-based games try to have a side story to the film and try to enhance on what the film did in the theatre. Examples of these are the newly released X-Men Origins: Wolverine game and the upcoming Terminator Salvation game. Star Trek D-A-C is completely different. First off, Star Trek D-A-C is not available in stores but instead available for download through the Xbox Live Arcade and PlayStation Network services. Secondly, it looks to not have the budget these games tend to carry with them, which isn't a bad thing. The top down 2d approach, similar in style to an RTS type game, works for Star Trek D-A-C. The not too fancy graphics also work, the lack of story to "complement" the film is also a good thing.
So your thinking there is nothing much too it then? Well yes, it is an incredibly simple game. Up to 6 people per side battle it out in a the depths of space. The game is classed as being 2D, but really it is played from a perspective that makes it look 2d. The game does, however, play on a 2D plane, which limits vertical movement, but in the background the developers have managed to create a sense of depth to the game, with lots of activity going on in the background. All the ships are rendered in 3D, and will even tilt when turning, other objects like space stations and asteroids are also in 3D.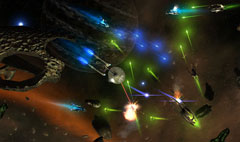 Star Trek D-A-C is not a master revision of any Star Trek games, mainly because there aren't many good ones worth remaking, like the movie it comes from, nor is it a mastery revision of film-based video games. It is just a simple space combat shooter that takes influence from the new film, and so far it's the only game where you can control the new U.S.S Enterprise! And that's what makes it stand out from the rest. On a last note, Paramount Digital Entertainment have kept what the D-A-C stands for a tight secret and will announce what it means later. Have any guesses? Ours would be on the lines of the three game types, Deathmatch, Assault and Conquest, boring yes so lets hope it means something better!
Star Trek D-A-C is out this month initially for the Xbox 360 via the Live Arcade service, and will be released later for the PlayStation 3 via PSN and PC.
Download Games -
Unlimited Games Downloads
Copy your video games -
Make Back Up Copies Of Your Favorite Video Games
Satellite TV on Your PC - Get over 3000 STATIONS on your PC or Laptop! -
Instantly Turn your Computer into a Super TV