Halo: Reach is the forthcoming (and final) chapter from current developer studio Bungie, bringing to an end their reign over the Xbox Halo franchise. Set in 2552 on the human planet Reach, and players once more adopt the Spartan colours as Noble 6 and, along with Noble Squad, the gamer will have to defend their planet from the terror that is the Covenant. However, Halo: Reach is a prequel to Bungie's first award winning "Halo: Combat Evolved" title.
Originally designed to be an improved version of the Xbox Halo franchise entry Halo 3, the notion was dropped, Bungie stating they would redesign and improve the quality of the Halo 3 designs. Harking back to the Halo: Combat Evolved concept ideas, this effectively means the new weapon, armour and covenant designs in Halo: Reach will deviate greatly from prior entries but uphold the ethos of the Xbox Halo franchise.
Hinting that Bungie will not cap the Xbox Halo franchise without a bang, the producers are looking to dramatically increase the graphical quality of all gaming areas, even including the weaponry. This clearly required Bungie to create a fresh new engine in Halo: Reach, with the AI augmented and nudged to provide better support for the player as they battle the Covenant.
So after all these promises of fusing greatly refined graphics and improved AI and designs, will Bungie leave the Xbox Halo franchise with a bang and cement their reputation for producing the best FPS for the Xbox 360? The only way to find out is to grab a copy when it is released later this year!
As successful as the Playstation 3 has been, it is known to be probably the least family orientated next gen console available right now. The calibre of games released onto the system usually cater for the older gaming demographic, and so Sony lose out to obvious favourites Wii, and also the Xbox 360 to a degree, when it comes to appealing to a younger, more family-friendly dynamic. On that note, since you're probably struggling to find something suitable, we've compiled the three best kiddy friendly games the Playstation 3 has to offer.
First up we have Lego Star Wars: The Complete Saga. As the name suggests, this game brings together all previous installments of the highly popular Lego Star Wars franchise into one great bundle, adding the next gen sheen and throwing in a new setof features and extras to round off the package. Add to this the inclusion of online play support, and you have a neat little game that is fun for the whole family, and suprisingly addictive!
Next is Ratchet & Clank Future: Tools of Destruction. The Ratchet and Clank series have always hovered on the boundary between kids games and more suitable for older players, but T of D has been officially licensed for players under 10, so all is good. Certain elements of the gameplay have been reworked, allowing for a much simpler and straightforward style, whilst maintaining the overwhelming fun we've come to expect from the series. Mixing shooter elements with hints of RPG, the weapons utilized through the game can be levelled up and augmented, allowing more powerful incarnations to be unlocked, something that'll keep the young ones hooked for hours!
Saving the best for last, we have LittleBigPlanet. aside from the highly entertaining single player campaign, LBP has the highly intuitive and unbelievably fun level editing function, allowing players to create their own environments and load them online to be enjoyed by the community. This may sound complicated, but it's actually very easy and extremely fun. LittleBigPlanet truly is a timeless game, as the possibilities on it are only limited by the minds of the players themselves. There's always something new to try and do, and although the game obviously appeals to players of all ages, it is especially well loved by children and their over-active imaginations!
Psp downloads - Download Psp Games, Psp Movies, Psp Tv Shows, Psp Software, Wallpapers.


more Psp downloads - Millions of Psp games, fast game downloads
Looking back, 2008 had many great Xbox 360 games, from Gears of War 2 to Banjo-Kazooie to Braid. The flood of good games continues, here are two great games that are already out for the Xbox 360 and one well worth waiting for.
X-Blades
Game developer, Gaijin, has been working on an anime-style action title for some time now. The game is called X Blades and stars tenacious treasure hunter Ayumi. Ayumi is an extremely powerful fighter with swords, guns, and magic all at her immediate disposal.
The story follows Ayumi as she attempts to find the ultimate artifact, whilst being under a deadly curse.
Gameplay sections are split up into what are called Dungeons. It's much like a role-playing game. As you kill enemies, you collect experience points and must decide which items, spells and/or gun and swords upgrades to spend them on. Guns, swords, and magic are all mapped to their own button, providing much potential for successful attack patterns and combinations, as each enemy has it's own weakness.
X-Blades provides fast and addictive action intertwined with an intriguing story. X-Blades is out now, so if you haven't got it grab it now!
Halo Wars
The Halo franchise goes from fantastic shoot 'em up to masterful strategy game. Who would of known?
Halo Wars had been in development cycle for many years, and Ensemble Studio has create a game that is breath-taking. It is real-time strategy game based on races, federations and locations from the original Halo games, yet taking place 20 years before the events in Halo: Combat Evolved occur, so no Master Chief, but all is not lost.
The game appears to be much more story-based than you might think for an RTS. A gorgeous cutscene at the beginning of the game introduces key characters from the series and sets up the story.
Halo Wars makes excellent use of the Xbox controller, especially for an RTS. It's simple and convenient to select and order various troops, and the combat is exciting. Each unit has it's own secondary attack that must recharge after being used. This adds a whole new strategical depth to the genre.
Halo Wars is extremely popular. Not only is a great game, but, well, it's Halo, the Xbox's biggest franchise. It wouldn't make sense to have an Xbox and not have Halo Wars...
Splinter Cell: Conviction
After four excellent Splinter Cell games, Conviction will take things to an entirely new level of realism and immersive stealth-action gameplay.
Protagonist Sam Fisher, after the events that took place in Double Agent, is now on the run from the government. This scenario opens up an entirely new style of gameplay. As the police force searches for you, you must blend into crowds and respond properly to certain situations that presents themselves. And due to advanced physics and AI, you can manipulate your environment in ways you never before dreamed of.
An example of this is the "grabbing" system. Anything that you think you should be able to manipulate, you can do. At a demo showing of the game, Sam Fisher snuck past a couple cops in a populated area by causing a ruckus to distract them. How did he do that? He snatched a laptop at a nearby table while a man was using it. It has also been shown that if you are being chased, you can dash inside a room you can block the door with objects and barricade yourself in.
Tom Clancy's Splinter Cell Conviction is yet to be released, but from what has been seen it will be a game worthwhile for the wait.
Xbox repair -
Xbox 360 repair guide
guide to repairing your Xbox 360
Xbox 360 guides, downloads, backups -
Everything for Xbox 360 - free newsletter
2008 was one of the best years for games to date (we always seem to be saying that year after year...) with releases like Gears of War 2, Fable 2, Resistance 2, Little Big Planet, Metal Gear Solid 4, Left 4 Dead, Fallout 3 and many more. Will 2009 trump 2008? Let's see what the competition is shall we?
Starcraft II (Windows and Macintosh)
StarCraft fans have been anticipating this one ever since the first instalment came out in 1999. StarCraft pushed the RTS boundaries with deep story, balanced gameplay and its pure addictiveness. It had three vastly rich races and near limitless potential for strategic variations. It is still played today extensively, especially in South Korea where they are Blizzard crazy. The second instalment to the series looks set to blow RTS and StarCraft fans away. Blizzard has an extremely good record for releasing games, with none of their games being a bad egg. They are now putting the finishing touches to their sequel with updated graphics, new unit types and abilities and a new improved online system. This is a mostly anticipated game indeed.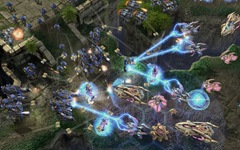 Killzone 2 (PlayStation 3)
Killzone 2 is one of the hottest First Person Shooters of 2009. This follow up to the original on the PS2 has broken the boundaries of what is possible graphics-wise on the PS3. In a couple of words it looks freakin' awesome! I was lucky enough to snag a view at it at the London Games Festival where they were showing the Beta build (I think - sorry I can't remember fully). From first looks it was simply stunning. Killzone 2 doesn't follow the mantra of previous FPSs, Guerilla Games have implemented a cover system that allows for a more tactical approach to your play and will give you time to plan your next move. They have also built an extremely engrossing atmosphere, with the crackle and pop of machine-gun fire and other sounds from the warzone. Clever AI will keep you engaged as they try to flank you or rip to shreds your cover you thought was safe. If you are a PS3 owner, this is an absolute must have.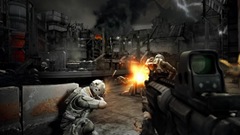 MadWorld (Wii)
This is arguably the most promising Wii game of 2009 as well as being one of the most bizarre looking games, it lives up to its name. The look of the game is its most distinctive feature. It looks like the world of Sin City, with black and white being the sole colours most of the time. The games is based around a deadly game, called Death Watch, which has sprouted up because of an outbreak of a deadly virus that has forced Varrigan City, the setting for the game, into quarantine and chaos. MadWorld sees you fight to the death in battles to win the ultimate prize in Death Watch, your life. The concept of this game echoes Battle Royale, and with its brilliant art direction and, as ever with the Wii, it will have a very unique control scheme. Hardcore gamers have been waiting for a 'hardcore' game for their Wiis, could this be it, i think so.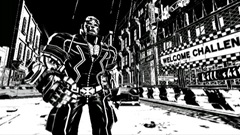 Star Wars: The Old Republic (Windows)
Star Wars Galaxies had lots of promise before it was released. Initially it delivered on that promise, to deliver a believable online world in the Star Wars Universe. Unfortunately they ended up messing it up by changing the core dynamics of the game, which made the game a challenge and fun to play, and ultimately lost subscribers. But all is not lost on the Star Wars massively multiplayer online role-playing game (MMORPG), in conjunction with BioWare (RPG masters), LucasArts have revisited the times of the Old Republic and turned it into one of the most anticipated online games of 2009. Because the times of the Old Republic haven't been written about as much as the times around the six films, there is a lot of scope for a very exceptional story in Old Republic. One of the interesting features of the Old Republic is that every decision you make whilst you complete quests, will affect the outcome of your character and the story, and this cannot be changed. You have to live with your consequences, as you fall into the dark side or rise to the light side.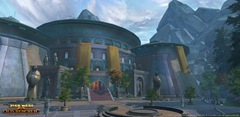 Download Games -
Unlimited Games Downloads
Copy your video games -
Make Back Up Copies Of Your Favorite Video Games
Satellite TV on Your PC - Get over 3000 STATIONS on your PC or Laptop! -
Instantly Turn your Computer into a Super TV