If you'd like to play your games with crystal-clear sound but don't want to spend lots of money on it, consider the Ear Force X12 Headset. These big 50 mm speakers generate excellent highs and deep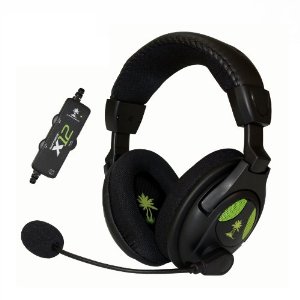 lows. The in-line amplifier makes for quick access to volume controls and bass for your video game and chats. Because it has a separate connection for microphone and line signals, the X12 is an excellent pair of headphones for PC video gaming.
The top selling XBOX gaming headset of all time is the legendary X11, and the X12 builds on that success, by adding 50mm speakers, together with adjustable bass. The outstanding sound quality gives the X12 an advantage over other speakers. You are going to notice sounds on the X12 that you didn't hear with regular speakers. You'll be able to quite easily hear the sound of footsteps or the sound of a weapon being loaded from a distance. You will be able to react more quickly since you will be able to pick up the discreet noises rather clearly. You can play for extended periods with these headphones as the ear cups are big and heavily padded.
The X12 will provide you with a gaming experience unlike what you've had before, especially if you are truly serious about your gaming sound. You'll be able to very easily make audio corrections while spending long hours with the comfortable and well-cushioned ear cups. You can also make immediate adjustments to game audio and chat volumes due to the independent controls. There aren't any adapters or batteries needed, since the power supplied to your amplified Xbox 360 headset is supplied by a USB connection. The reviews for the X12 have been mostly good so you probably won't make a bad choice by buying it.
Several of the positives that are listed include, the super-sensitive mic picks up even mumbles and whispers, which is a huge factor in why many are getting this headset. A lot of buyers also like the fantastic audio quality and the Bass Boost dial bass control. The headsets aren't noise canceling but the outside noise is considerably diminished. Lots of buyers who wear glasses also found the headsets to be quite comfortable. When it comes to problems, a few people found the mic a tad too sensitive to the point it picks up an excessive amount of background noise. Others don't like to hear their own voice when they do chat. It has an indicator if the mute is on or not. However, the way the mute is placed, it could be switched on or off by mistake quite easily.
If you used headsets previously, you might observe the difference with the X12. For many people it's going to be a huge improvement, and for others it might not. It is best to give it a try for yourself to find out if it is best for you.
Released just a few weeks ago, the Dante's Inferno videogame has caused quite a stir in the gaming community. The subject matter, which is very loosely based on the titular poem, has been met with scorn by some and certain countries even refused to advertise it. However, this kind of notoriety is often a good thing, as it gets audiences interested in what could be causing such an outcry.
The story follows Dante as he journeys through the various circles of hell on a quest to rescue his beloved Beatrice. But as he ventures deeper into the Inferno, darker secrets are revealed and the truth about his quest comes to light. Dante must battle his way through using Death's scythe, which he took from the spectre having defeated him in single combat!
Now, let's get this out of the way early- the Dante's Inferno video game has been accused of being a rip off of the God of War series, to the point at which the combat system is supposedly almost identical. Well, this is really dependent on your point of view. God of War certainly didn't begin the hack and slash genre, it just does it best, and thus all subsequent games will be measured against it. If a game can come close to emulating God of War, surely that's a good thing?
And the Dante's Inferno videogame is doubtless its own master. The combat system is actually an intricately fashioned tree of possibilities as you employ Dante's two methods of attack; his scythe and holy cross. These weapons can both be levelled up as you progress through hell. Dante will come across lost souls in both combat and non-combat situations, and the player can choose to either punish or absolve them. This will level up either weapon correspondingly.
Hell itself has been nicely designed, and there are definitely echoes of EA's earlier horror offering- Dead Space. The landscape is teeming with writhing damned, impaled prisoners and rivers of blood, whilst the different circles will offer their own slant on things. Journeying through Lust will unveil mutated phallic symbols and darkly seductive enemies, whilst Greed will display unfortunates encased in gold.
Dante's Inferno has had a rough ride at the hands of all the God of War fanboys, but is definitely a great game in its own right. Sure, there are a couple of drawbacks- the game is a little too short and some of the environments begin to look over familiar, but these gripes are cancelled out by an empowering combat system and imaginative boss battles and imagery. The Dante's Inferno videogame should be recognised as a great effort from EA, and I urge you to try it out.